GunHold
$20.00
In Stock
Part Number: 02-4052-11
Looking for a safe way to transport your rifle, shotgun, bow or even spear gun without worrying about it getting damaged or jostled around? The GunHol...
170 in stock

GunHold
Product
Specifications
Whether you're transporting your bow, shotgun, rifle or spear gun, The GunHold provides a secure fit and easy fasten capabilities to get your firearm from point A to point B without the worry of vibration damage. Plus, its compatibility with all StarPort Bases makes mounting it even easier - letting you optimize your transport needs in no time! #gunhold #securefit #transportwithouttheworry
Features:
- Safely stow and transport your rifle or shotgun
- Flexible rubber fingers shape to fit different gun butts
- The strap secures the rifle against vibration and damage
- We recommend 2 units per gun
Parts Included:
1 x Gun Holder
Weight
0.24lbs
Material Composition
UV stabilized AES plastic with UV stabilized TPE Rubber overmold Strap: UV stabilized urethane plastic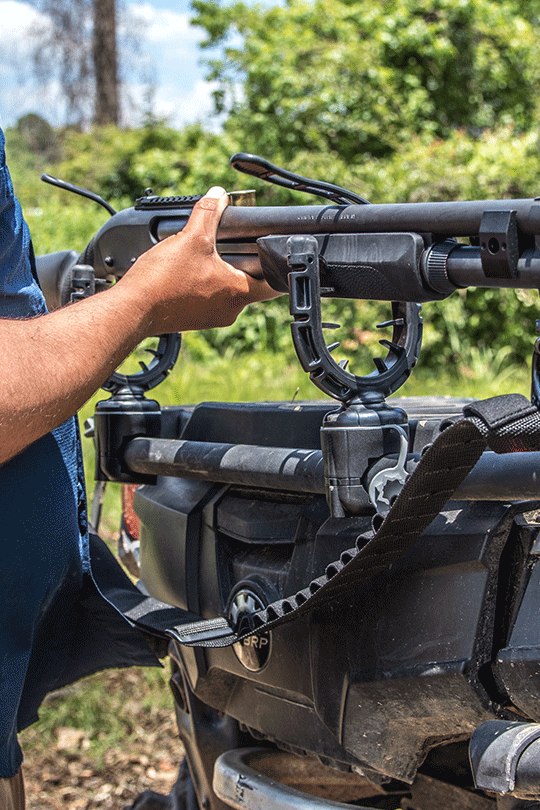 GunHold Overview
SECURE FIT - Whether you're transporting your rifle, shotgun, bow or spear gun in an ATV, UTV, automobile or hunting boat, the GunHold has you covered with its flexible rubber fingers and secure strap.
EASY TRANSPORT - The GunHold is also compatible with all StarPort Bases so that mounting it becomes simpler. Plus, we encourage two units per gun to optimize your experience and transport needs.
VIBRATION DAMAGE PROTECTION - With the GunHold's secure fit and easy fasten capabilities, you can safely stow and transport your gun without the risk of vibration damage.
RAILBLAZA Q&A
Customer Questions & Answers
Q & A
There are no questions yet