When you're planning to rig up your Hobie Kayak for kayak fishing adventures, RAILBLAZA mounts and accessories answer your needs from Rod Holders, Fishfinder mounts, Camera mounts, Rod storage and more…
In this Hobie Kayak fit-out video guide, we show how easy and practical the RAILBLAZA system is using the Hobie Pro Angler 14 and the Hobie Outback. The fantastic thing about both of these kayaks is they have track and rail mounting options which means no drilling required when adding RAILBLAZA StarPort Mounts. 
RAILBLAZA Mounts & Accessories for Hobie Kayaks
All products used in the video are listed below, click each one to find out more and where to buy. 
Big thanks for Gordon and the crew at Sunstate Hobie in Brisbane AU for the use of the kayaks 
StarPort Mounts
TRACMOUNT: TracLoader StarPort, Traloader SidePort & MiniPort TracMount - These mounting bases allow tool-free installation and easily reposition on the go. 
RAILMOUNT: RailMount 32-41 with H-Rail Inserts – A base mount that allows the secure and easy attachment of any RAILBLAZA accessories to your rails. The Hobie StarPort HD & MiniPort H-Rail mounts are available through your local Hobie Dealer 
Rod Holders
RAILBLAZA Rod holders are designed to hold all style of rods and we have 3 different models of the rod holder to choose from including a fully adjustable extender for extra versatility.  Rod Holder R is a light-duty Rod holder, Rod holder II is our all-round versatile rod holder & the Rod Tube is the ideal solution when you need to keep those reels higher and drier.
Rod Holder extender - The addition of a Rod Holder Extender to your rod holder will let you offset your rod holder too, adding another level of versatility to any RAILBLAZA rod holder.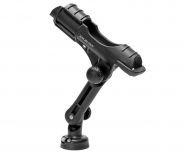 Electronics Mounts 
RAILBLAZA have an extensive range of Fishfinder mounts to choose from for your Hobie Fishing Kayak, no matter which brand or size we have a mount to suit and make your life easier when installing and fir general use. Fully removable base mounts and transducer mounts make it much easier to pack down and keep your electronics safe.
Pictured below are just a few of the amounts used in this video, for more detail and a guide on how to choose the right base mount for your fishfinder, see our guide HERE 
Swing Arm R-Lock -  The Swing Arm R-Lock is a great addition to your RAILBLAZA kit, adding the Swing Arm R-Lock lets you swing your fish finder display out of the way, move your chart plotter to a better angle, or swivel your GoPro or iPad with ease.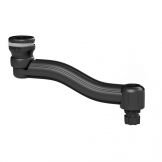 Camera Mounts 
Capture and share your kayak fishing adventures using our Camera boom mounts, Plug into any StarPort mount and create engaging footage and images by capture multiple angles easily by repositioning your camera mount around the Hobie Kayak. 
Storage
Keeping your cockpit organised when fishing from your Hobie kayak using a couple of our simple yet practical storage solutions. Keep tackle at easy reach or secure rods, the options are endless.
Like more Trip Reports & Tackle Tips? Sign up to our Newsletter for regular updates HERE  
Check out the Latest Video from Pro Team member Dan "Flying Fish TV" chasing some big fish in big seas on his Hobie kayak. Dan has a variety of RAILBLAZA mounts and accessories fitted.