Here's a little DIY solution from Pro team member Mark Harder to help you easily get photos and videos while ice fishing.
It appears more and more people are filming their ice fishing adventures to share with friends, social media, or YouTube and often that's not easy to do when on your own without tripods or a bit of hassle trying to set up cameras.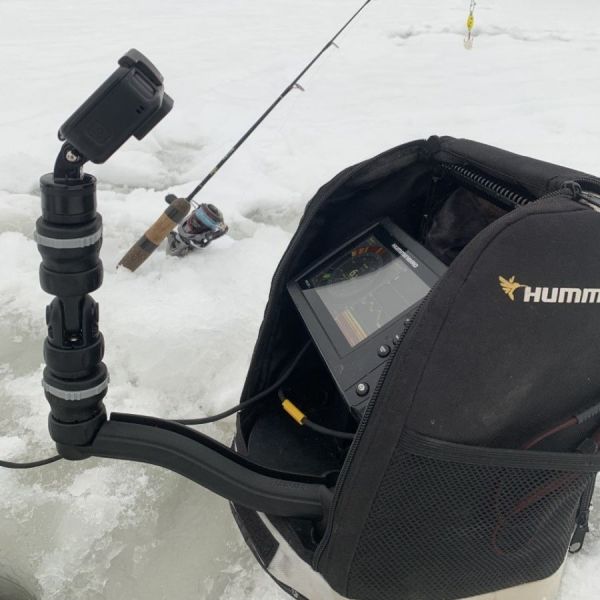 This GoPro setup I have made to my portable Humminbird helix Ice fishfinder case with RAILBLAZA components makes it easy to capture photos and videos while ice fishing of either the fishfinder screen or of the fishing process. This is especially useful if you're trying to document the adventure with video or stills. Or even if you're doing a how-to guide,  as its hands-free, can be powered all day from the sounder battery and very cheap and easy to set up.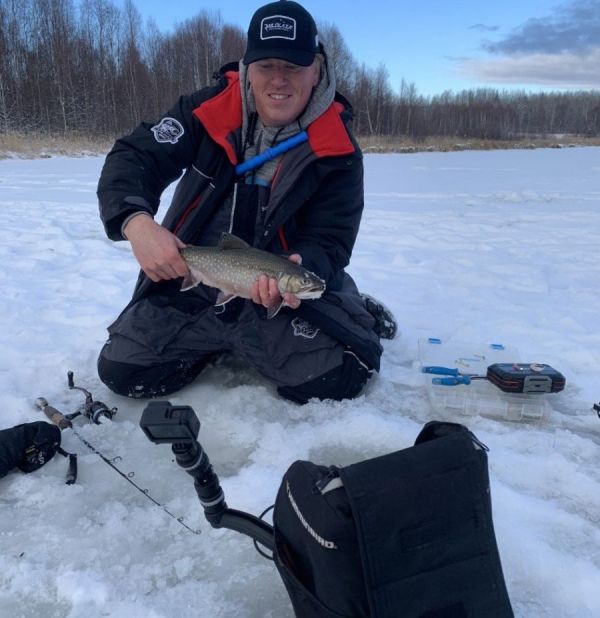 No need for a tripod, a mate to hold the camera, or fumbling with your phone beside the hole you can simply swing the camera to the angle you need and record, even easier if your using voice control option on your camera.
The set up – powering the GoPro
I have a Helix 5 PT with a Dakota Lithium 10 aH battery where the battery last me multiple days. I was hoping to do some filming of the sonar with my GoPro but the internal batteries don't last really long in cold weather and external battery packs are clunky to use if hole hopping.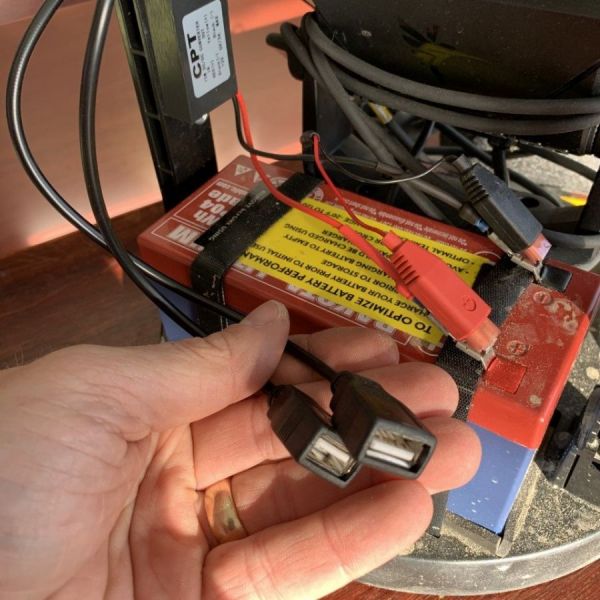 I went on Amazon and picked up a waterproof 12vDC to USB unit for $12. It was at my door in 2 days and took about 10 min to wire up. Now I have two USB ports to charge my GoPro and my phone, or even power an LED light in the tent with.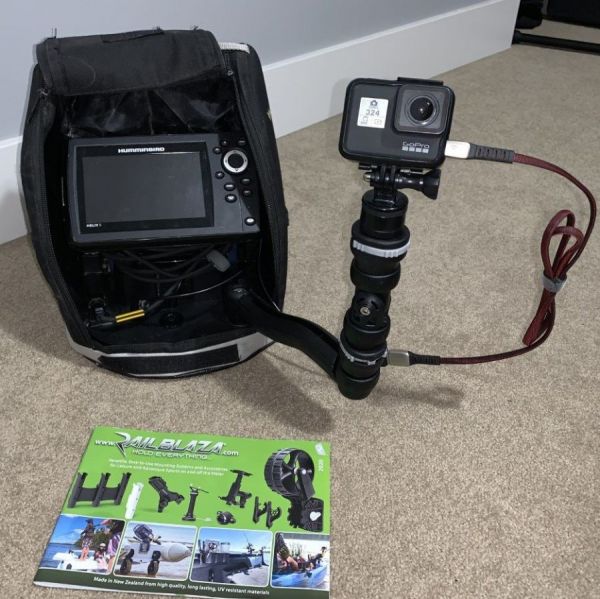 USB ports are 5V with the resistor built in much the same as our E-Series USB StarPort Mount which is also an alternative to consider. The E Series USB StarPort combines a USB connector within our StarPort base allowing you to charge your tablets, mobile phones and many other devices.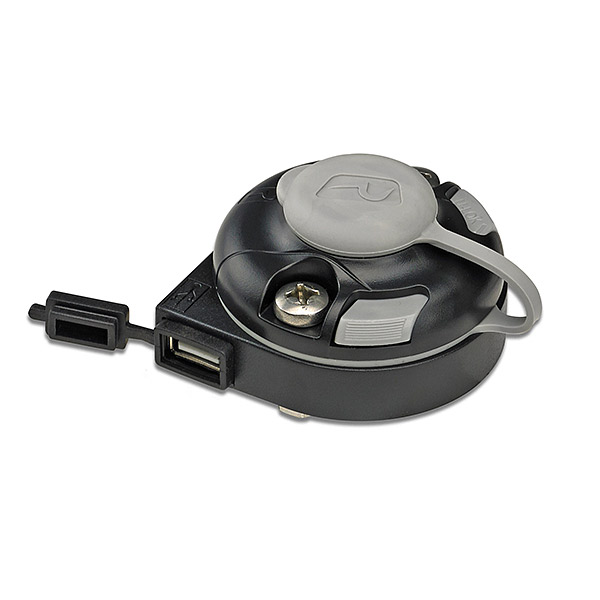 The Camera mount
The Humminbird carry case I have has a threaded base, presumably for a transducer arm as Marcum uses. The Humminbird uses a float instead, so this is available for other uses.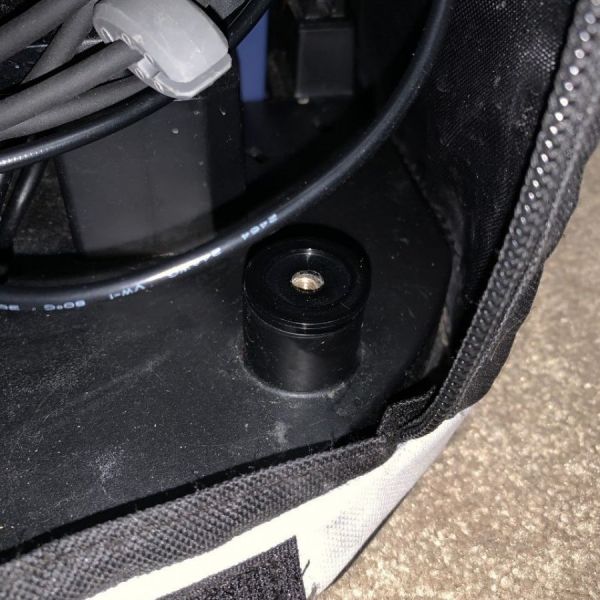 I used the RAILBLAZA Swing Arm R-Lock and removed the StarPort Adaptor from it. It's a simple Allen headed machine screw. I then replaced it with a machine screw that fit the threads on the Humminbird carry case base. I used the new machine screw to bolt the Swing Arm to the base directly.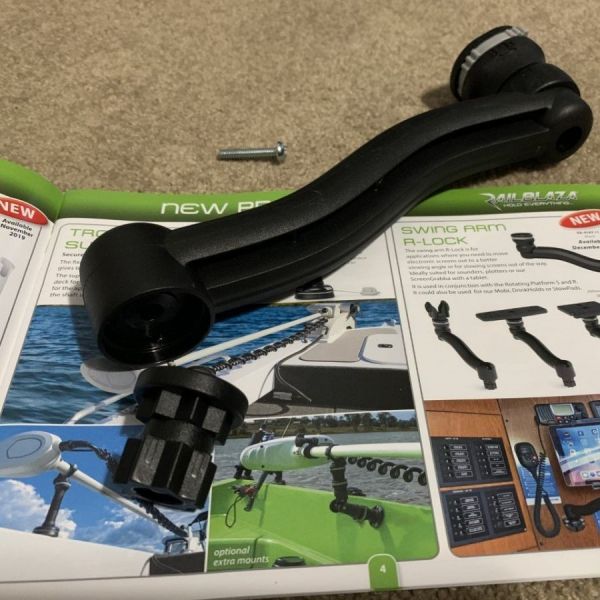 Then I used the RAILBLAZA Camera Mount R-Lock to mount my GoPro, which is adjustable to shoot at any angle as well as swivel 360 degrees. I point to myself and use voice commands to take pictures. Or towards the sonar if I want to record the flasher/sonar.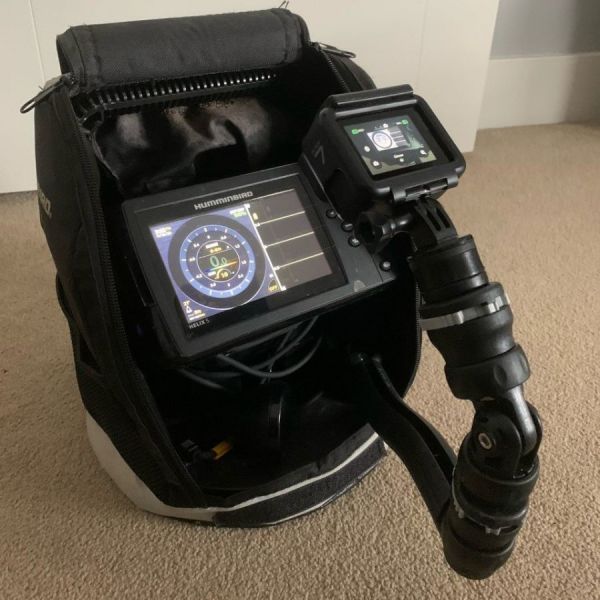 With the Swing Arm fitted I can also drop a rod holder in there if I wanted too or any other useful RAILBLAZA accessory like the DrinkHold, Mobi Mobile Device holder and many more. Check out the full range of RAILBLAZA products in our latest catalogue below.

Find out more about Mark in his Pro Team Bio below