Trolling Motor Support Kit
$49.00
In Stock
Part Number: 04-4148-11
Trolling motor support? We've got you covered. Looking for the perfect way to secure your trolling motor shafts while out on the water, or on a ...
340 in stock

Trolling Motor Support Kit
Product
Specifications
Never worry about your boat's trolling motor shaft again! RAILBLAZA has got you covered with their Trolling Motor Support Kit. Its adjustable height off deck and tight-fitting retention make trolling an easy experience, freeing up more space on your deck so you can focus on what matters–catching fish! Get the ultimate security and convenience with this amazing support kit today.

Features:
- Keep your trolling motor in place while travelling
- Easy to install - no tools required
- Secure retention - G-Hold technology
- Can be removed when not in use
- Mounts available for different applications
Parts Included:
1 x StarPort Black
1 x Fixed Extender
1 x G-Hold 35
Stainless Hardware
Weight
0.39lbs
Material Composition
UV Stabilized Fiberglass Reinforced Plastic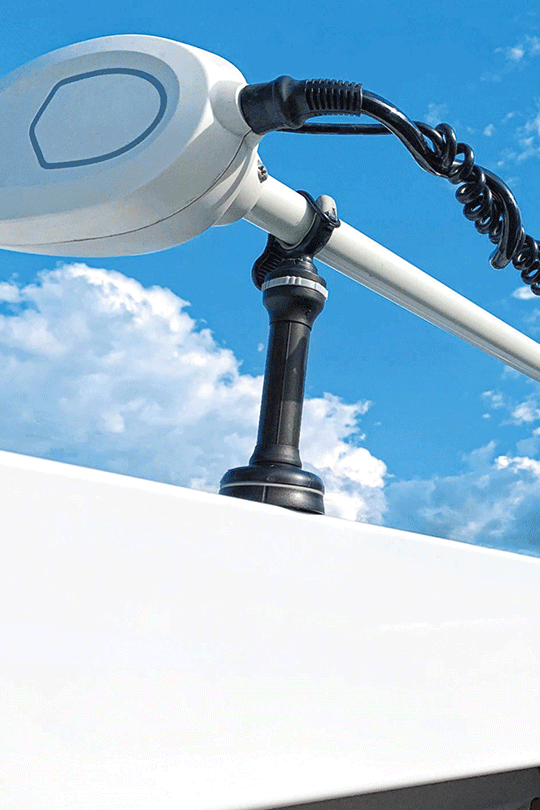 Trolling Motor Support Kit Overview
SECURE YOUR TROLLING MOTOR - The RAILBLAZA Trolling Motor Support Kit provides a mount to secure your trolling motor shafts while out on the water or on a trailer. With a total height off deck of 6.3 inches, it gives you enough clearance to easily remove the mount when not in use.
EASY TO USE - Whether you need to transport your trolling motor or just store it when not in use, our support kit makes it easy! With its tight-fitting retention and quick release system, you can be sure your trolling motor is safe and sound while using this mount.
PERFECT FOR ANY BOAT - The Trolling Motor Support Kit is perfect for any boat! Designed to give you height off the deck and tight retention for your trolling motor shafts, our kit will make your time on the water easier than ever before.
RAILBLAZA Q&A
Customer Questions & Answers
Q & A
Do you have to drill holes into the bow in order to hold the base or is it suction?
You would need to drill two holes depending on what boat you have you could use other mount types if they are compatible for your installation.