HEXX Live Pole 30
$210.00
In Stock
Part Number: 11-4191-11
Are you looking for a convenient way to maximize your live sonar transducer experience on a kayak, canoe, or dinghy? Look no further than the HEXX Liv...
297 in stock

HEXX Live Pole 30
Product
Specifications
Improve your live sonar transducer experience on a kayak, canoe, or dinghy with the HEXX Live Pole 30! With its innovative design and convenient features like direction indicator and 360° rotation ability, you'll never have to worry about missing out on that catch again!
Features:
- Easy 360° rotation to follow targets.
- Direction indicator shows transducer aim.
- Cable management clips supplied.
- Swiftly stows or detaches completely in seconds.
- Track mount ready
Parts Included:
1 x Live Pole
1 x HEXX Mount
1 x Track Nut Kit
Weight
4.40lbs
Material Composition
UV resistant fiberglass reinforced nylon, Anodized Aluminum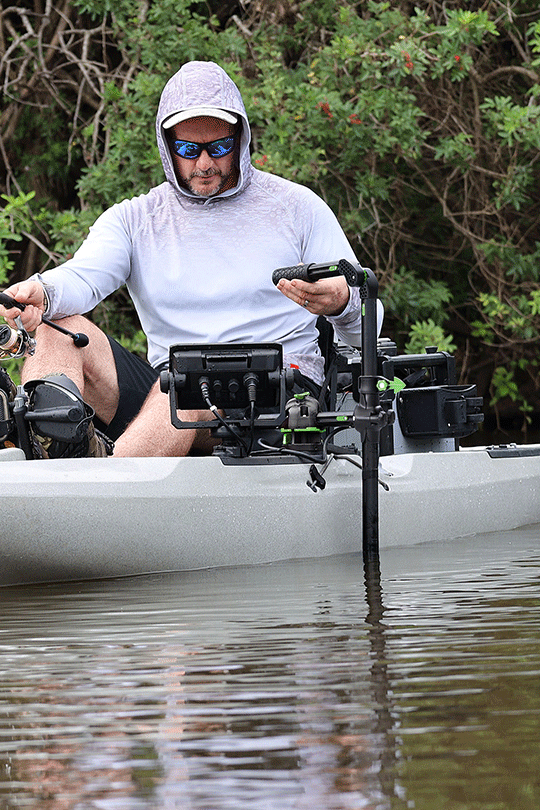 HEXX Live Pole 30 Overview
360° ROTATION ABILITY - This allows you to get the perfect viewing angle for your live sonar transducer every time. No more struggling to get the right view - simply rotate the pole until you have the perfect angle!
EASY FOLDING DESIGN - The HEXX Live Pole 30 quickly folds up when not in use, making it easy to store on board your small vessel. When you need it, it is ready to go in moments!
DIRECTION INDICATOR - Keep your transducer pointed at your targets with this handy directional indicator. Make sure you always get the most accurate readings possible with this great feature!
RAILBLAZA Q&A
Customer Questions & Answers
Q & A
Is it going to work with star ports(the one you sell) for inflatable boat?
The HEXX Rib mount will work for a mount to your inflatable. We are just getting these finished up and added to the website (as of July 21, 2023) keep an eye out!!
What is the difference in the 30 and the 60? Is it the length?
yes .. the 30 is made for Kayaks with a shorter length. the 60 is longer made for boats.
Do you have a mount for square railing on pontoons
A HEXX mount can be added to one of our pontoon mounts, but I'm not sure that our Live Pole 60 is long enough for a pontoon boat.
Does the Live Pole 30 come with a storage bag like the Live Pole 60 says it does?
The Live Pole 30 comes with a CWS Bag not the larger neoprene bag that the Live Pole 60 comes with.
Will it work for a 2021 hobie outback?
Yes, it will work perfectly.