Fish Finder Mount R-Lock R with Miniport Tracmount
$48.00
In Stock
Part Number: 08-0082-11
When it comes to ease and security, the RAILBLAZA Fish Finder Mount R-Lock R with MiniPort TracMount has got you covered. This low-profile mount provi...
247 in stock

Fish Finder Mount R-Lock R with Miniport Tracmount
Product
Specifications
No more fussing around with complicated installations! Get on the water faster with the RAILBLAZA Fish Finder Mount R-Lock R and MiniPort TracMount. Easy, secure and adjustable in 15° increments - this mount is perfect for your next fishing adventure!
Features:
- RAILBLAZA compatible track mount base that requires no tools for repositioning
- Fits Wilderness Systems, Native Watercraft, Jackson Kayak, YakAttack, Scotty, YakGear, and RAILBLAZA tracks.
- Loosening, adjusting, and tightening are as simple as turning your hand
- Fits many manufactures of fish finders, depth finders. up to 4 lbs
Parts Included:
1 X MiniPort Track Mount
1 X Fish finder Mount R-Lock R
Weight
0.51lbs
Material Composition
UV Stabilized Fiberglass Reinforced Plastic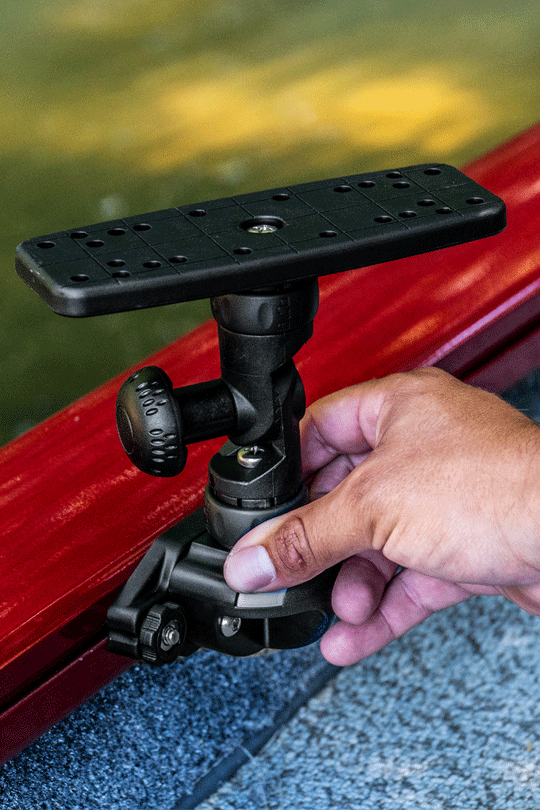 Fish Finder Mount R-Lock R with Miniport Tracmount Overview
WHEN IT COMES TO EASE AND SECURITY, THE RAILBLAZA FISH FINDER MOUNT R-LOCK R WITH MINIPORT TRACMOUNT HAS GOT YOU COVERED. - This low-profile mount provides a straightforward platform for fish finders or chart plotters with U-shaped brackets that easily allow them to be removed. Just leave the mount on deck and continue on your journey!
THE 3-AXIS MOUNT HAS FRICTION JOINTS ALONG WITH R-LOCK LOCKABLE JOINTS TOP AND BOTTOM, PROVIDING AMPLE STABILITY. - And if setup requires an angled surface? This mount can also adjust in 15° increments so you can get your display nice and level.
WANT SOMETHING EVEN EASIER? INTRODUCING THE RAILBLAZA MINIPORT TRACMOUNT - NO TOOLS REQUIRED FOR REPOSITIONING! - Fitting almost any existing tracks from kayak manufacturers or externally, the MiniPort is super simple when it comes to setup and use. Plus, it's made from durable materials that will last season after season.
RAILBLAZA Q&A
Customer Questions & Answers
Q & A
There are no questions yet