C-Tug R with SandTrakz Wheels
$209.99
In Stock
Part Number: 50-0014-71
Load up your Kayak with ease and get rid of the hassle on your next trip out to the lake with the RAILBLAZA C-Tug R SandTrakz. It's a cinch to f...

C-Tug R with SandTrakz Wheels
Product
Specifications
Don't let the hassle ruin your days out on the water! With the C-Tug R SandTrakz, you can load and unload your kayak with ease and spend more time enjoying the water. No tools required - it's a cinch to adjust and dismantle this everyday helper that fits a wide range of hulls in seconds.
Features:
- Tool-free assembly
- Fits inside most kayak hatches
- Lightweight and easy to handle
- Puncture-free, high grip, rubber tread wheels
- Non-slip rubber hull pads
Parts Included:
2 x Crossbeams
2 x C-TUG Rails
2 x C-TUG Rail Bases
2 x SandTrakz Wheels
1 x KickstandStrap Kit:1 x 1.2 m Webbing
2 x Ladder Lock1 x 1.6 m Webbing (with sewn on metal buckle)
Hardware:4 x Thumb Knob4 x Green D-Washer4 x Hex Bolts4 x Hex Nuts
Weight
10.00lbs
Material Composition
UV stabilized ABS, Acetal and Nylon plastic UV stabilized Santoprene elastomer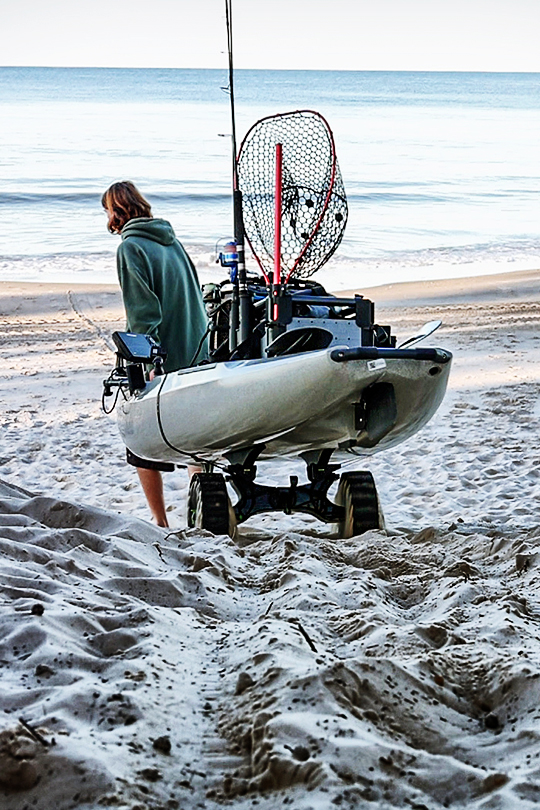 C-Tug R with SandTrakz Wheels Overview
SIMPLIFY LOADING UP - No more wrestling with your gear on your next trip out to the lake. The RAILBLAZA C-Tug R SandTrakz makes loading up a breeze, fitting a wide range of hull profiles and taking seconds to assemble/dismantle.
GET A PERFECT FIT - Designed to work with canoes, kayaks, or Hobie Pro Angler or Outback boats without any tools required. Plus, the integrated hull pads let you adjust the cart easily to fit your needs.EASY TO USE - Leave items onboard while loading up and off your vessel without damaging the scupper holes. The C-Tug R is also equipped with a strap system so you can transport heavier loads with ease.
BUILT TO LAST - manufactured from durable HDPE and stainless steel, this cart is designed for everyday use. It's perfect for anyone who wants an effortless way to move their boats around.
RAILBLAZA Q&A
Customer Questions & Answers
Q & A
There are no questions yet