Bimini RailMount Light Kit
$87.00
Out of Stock
Part Number: 04-4170-11
Hey boaters, do you want to make your time on the water even better? Get yourself the RAILBLAZA Bimini RailMount Light Kit! This is the ultimate light...
Out of stock
Get Notified When In Stock

Bimini RailMount Light Kit
Product
Specifications
Are you ready to make your time on the water even better? Now you can with the RAILBLAZA Bimini RailMount Light Kit! Not only is this an easy-to-install lighting addition for square or round tube Biminis, but it also comes with all the hardware and rubber inserts needed for a secure fit—no drilling required! Make your boat safer, more visible, and even more enjoyable when you add this simple light kit.
Features:
- Easy installation - no drilling or tools required!
- Fits square and round rails of multiple sizes
- Adds visibility and safety when boating at night
- Versatile - can be used for a variety of applications
Parts Included:
1 x RAILBLAZA Illuminate i360 All-round White Navigation Light
1 x Bimini Railmount StarPort
8 x non-slip rubber inserts
Stainless Steel Hardware
Weight
0.60lbs
Material Composition
UV Stabilized Fiberglass Reinforced Plastic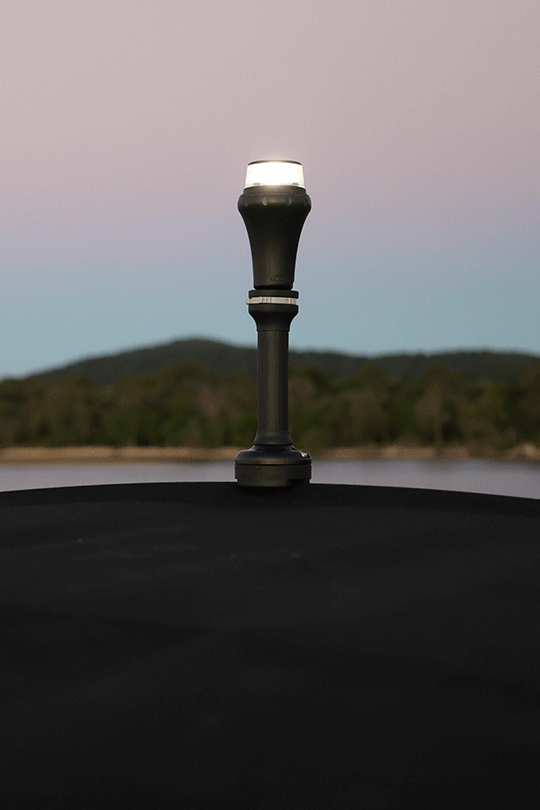 Bimini RailMount Light Kit Overview
MAKE YOUR TIME ON THE WATER EVEN BETTER - Add the RAILBLAZA Bimini RailMount Light Kit to your boat and make sure you're always visible while out on the water. This easy-to-install kit comes with everything you need for a quick and simple addition to your boat.
EASILY ADD A NAVIGATION LIGHT - With just a screwdriver, you can add a navigation light to your round or square tube Bimini with this kit. It's easy to install and fits onto square rails of 28mm (1 1/8") or 32mm (1 ¼") and round rails 19mm (3/4"), 22mm (7/8"), or 25mm (1").
KEEP YOURSELF SAFE while out on the water - Whether you're fishing at night, taking a casual cruise around the bay, or enjoying an evening soirée with friends and family, make sure you're always visible with this simple and secure light kit.
RAILBLAZA Q&A
Customer Questions & Answers
Q & A
What is the extension shown in the fourth picture of this listing? I would like to purchase the light and an extension.
I think you are asking about the Fixed Extender here: https://www.railblaza.com/products/starport-fixed-extender/
Does this meet USCG requirement for 2 mile visibility? Thanks
How long does battery last?
The batteries are 3x AA and last from 25 to over 200 hours with new batteries depending on use and mode.
How does this handle Mother Nature. Is it waterproof or water resistant? How tall is it once mounted? How is it powered? Thankyou for your time
This light kit is waterproof and floats. It is powered by 4 AA batteries.
What batteries does this take or is this rechargeable?