Superfly 19 debut at Hutchwilco Boat Show, sponsored by RAILBLAZA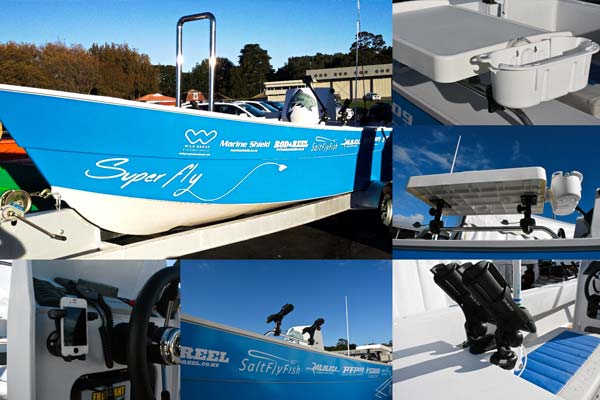 (Some of the RAILBLAZA options used on the Superfly, see further down for more info on each of these accessories used)
Press release 22nd April 2014
A new concept in recreational fishing boats will be on show for the first time at the Hutchwilco boat show.   Constructed in high-modulus polyethelene (HMPE) and thermoplastic extrusion welded, the Superfly 19 is a major departure from conventional boat building materials.
Unashamedly targeted at serious sport fishers, the Superfly 19 was born from a desire to produce an uncompromising fishing machine to perform in shallow water harbours and lagoons, as well as being open water capable to reach remote fishing locations.  The boat had to be stealthy quiet in the shallows, light and manoeuvrable, have excellent sea keeping qualities, be a good load carrier, easily pushed and economical to run.
Built to MSA survey, the boat will operate as a salt water fly fishing charter boat under 'Salt Fly Fish' skipper and salt fly expert Matthew von Sturmer.
"The choice of HMPE material was logical. It is a very tough material, with the highest impact strength of any thermoplastic presently made" says owner Brett Patterson.
"When we are stalking big fish in skinny water a quiet boat is vital to our success.   Alloy was out of the question.  We also land anglers in remote and rocky locations.  We needed a boat that could take a hard grounding with no concerns.  We have a casting platform in the bow with a leaning bar, and sealed buoyancy chambers around the gunwales, but you would never know that by looking at it."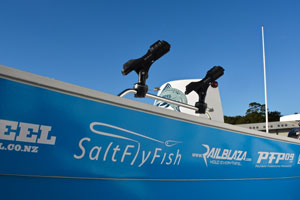 (Rod Holder II mounted to the 20mm rails using 19-25mm Railmount StarPorts)
The naval architecture and engineering was handled by Jim Pauling Yacht Design. "We are excited to be involved in this project and the boat is a development of our earlier PE longboat. It was a perfect marriage between the customer's charter fishing requirements and our original longboat hull, and the two came together seamlessly. The design features higher topsides with a traditional and elegant sheer line which has allowed us to incorporate a "buoyancy ring" for additional safety (even though the material is buoyant in its own right). We have developed the original hull shapes, taking an already efficient and sea kindly hull to another level, making the boat both economically viable as a charter boat and very comfortable and safe for her passengers and crew. The vertical accelerations of the boat underway are significantly reduced compared to conventional boats and she can run comfortably all speeds, as there is no major transition from displacement to planing. That means she is efficient even in the semi planing range and is fully planing at a lower speed than other boats of this length." Says Pauling.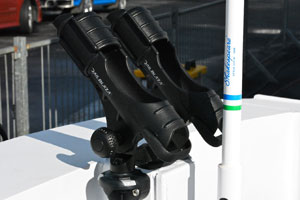 (SidePort mounts offer a useful way to mount Rod Holders and Cameras at the back of the boat)
Construction is handled by the highly experienced Gerard Richardson of PFP Plastics Ltd, one of NZ's leading HMPE welding experts and is built under contract to Rêvo Boats  "I have worked with HMPE for years, so know its advantages; no rust or corrosion, shock absorbent, UV stable, and low maintenance" says Richardson.
The Rêvo Superfly 19 is a semi-production boat, available turnkey, in centre console or tiller steer variants. The boat comes standard on an all alloy custom designed trailer and can be optioned for jet drive or outboard.
Specifications:
Overall length:  6.0m
Beam: 1.758m
Deadrise:  Variable warped plane
Recommended horse power:  40-60
Passengers: 5
Weight: 654kg
Contacts: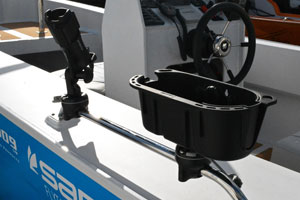 StowPod mounted to Railmount 19-25mm alongside Rod Holder II, a great place to store tackle and other key accessories keep them close at hand, easily accessible. The Railmount 19-25mm pairs have been mounted at 400mm centers on all 4 rails, this allows the angler to re-position the Fillet Table II to any of these for positions to suit the occasion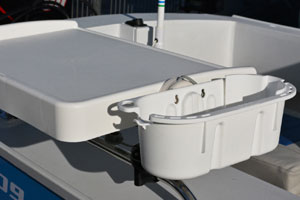 StowPod mounted to Fillet Table II with a StarPort. This is a great addition to the Fillet table and again means all key accessories or tackle can be at easy reach and off the work surface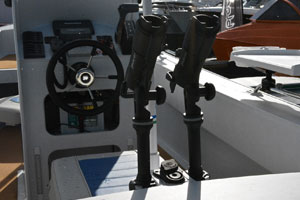 Fixed StarPort Extenders offer a little more height for the Rod Holders mounted to SidePorts at the back of the boat,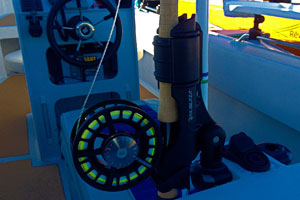 This is what the Superfly is all about, Salt water fly fishing, Rod Holder II is a great option for fly reels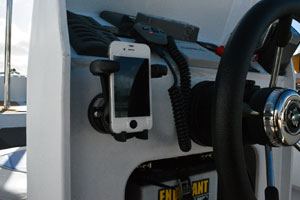 Low Profile Mobi Device holder mounted to center console looking after your mobile phone.