In September we ran a StarPort wall sling competition through our FaceBook page  & Australian publication "Blade kayak Fishing Journal" . The idea being for you to send us a picture of your current kayak storage solution (or lack thereof) showing us why our Wall Sling would make your life easier…
Originally the offering was for 1 wall sling to the most desperate of cases…but there were more than one of you that could do with a Wall Sling, so we have extended the prizes to 3 winners!. See below winners pics sent in. The Guys at Blade Kayak Fishing Journal will be sending the prizes out to the lucky winners…look out for pictures of some new StarPort Wall Slings being put to good use….
1st winner  - Tina Lawson
We think the picture speaks for itself, this was the first most obvious choice for us… Tina we hope your kayak feels better once it is out from under that cover,  Congratulations Tina!
 2nd Winner - Leon Gallaher
Leon's kayak looks to be in the kitchen! For piece and harmony in the house this kayak definatly needs to be in a wall Sling! Congratulations Leon!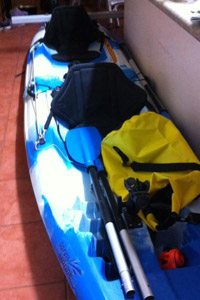 3rd Winner - Ben Armistead
Ben wins the 3rd wall Sling for the best DIY kayak storage sent in… now that Ben has another storage solution we think there is room for at least 1 more kayak ! Congratulations Ben!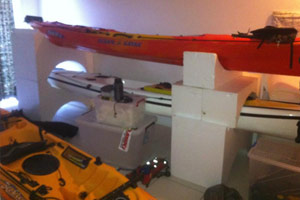 Thanks to everyone who entered!
Check out our FaceBook gallery to see all the entries to this competition.
To find out more about the StarPort Wall Sling check out the video below and be sure to head over to our Find A Dealer page to find out where to buy near you.