Its that time of year again where we put RAILBLAZA on show at the annual Hutchwilco New Zealand boat show…this season you will see even more of our products around the show. Including many display boats like this one, thanks to the guys at Gulf land marine we have "blazed" a Stabicraft2150 Supercab with a selection of StarPorts, SidePorts and Railmounts to showcase the versatility of our system on a boat this size…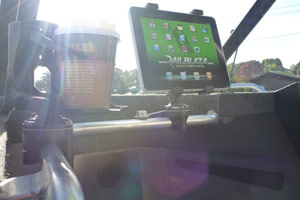 The video and images below take you through some of the Railblaza products we have chosen to fit to this boat. If you are in Auckland over the weekend be sure to look out for this boat on the Gulf Land marine stand…for those that can't make it, this boat will feature in our upcoming "Blaze your Tinny" Youtube video series… be sure to subscribe to our Youtube channel to see the videos as we upload them.
RAILBLAZA Railmount StarPorts – The Stabicraft lends itself well to our Railmounts, we have utilised rails on this boat to mount useful accessories, both the 19-25 & 32-41 Railmount kits have been used…
RAILMOUNT 19-25  mounted in the cockpit and on the roof & RAILMOUNT 32-41 mounted to rear rails
Accessories used in the rails include
IN the cockpit :  Screen Grabba for tablets | G-Hold 50mm to hold a torch | Cup Clam for various drinks
ON the roof : Boom 150 for GoPro camera | Adjustable extenders (x2) for Navisafe light
RAILBLAZA  StarPort mounts –  both at the helm and out on the deck we have mounted Surface mount StarPorts for key accessories. In the helm we have 2 mounted near the skipper to hold either the Mobi (mobile device holder) for a phone or similar and another for the CupClam drink holder. Out in the deck we have mounted StarPorts to the gunwales in pairs setting them at 200mm centres..this allows for the Fillet Table II and the TracPort Dash 500 to be moved to any of these 3 stations…these can also be used for Rod holders or Cup Clam. Inside the deck we have fitted StarPorts to allow our Dive Bottle holder kit to be mounted on either the Port or Starboard side of the boat.
RAILBLAZA SidePort mount – We often hear from discerning boat owners that they never have a drink holder where they need it in a hurry.. we have tried to alleviate this small pain by making sure there are enough mounts on the boat to make it easy to reposition the CupClam to an area both at easy reach but out of the way of the action… SidePort mounts fitted to the entrance of the cabin add another solution to holding that essential beverage while otherwise entertained.. The CupClam can be mounted to any of our mounts..this boat has 4 CupClams supplied with this fit out…