Wanna hear an epic shark and squid fishing kayak experience? Read on!
Guest post by Andrew Mcilone
This kayak fishing adventure started with a two and a half hour drive up the North coast of Ireland, Donegal…
I was after a Tope, a small shark species that is quite abundant in Irish waters during the warmer months of the summer. Gary McIlmale and myself set off up to the chosen location and on arrival met Graham Smith, this is his backyard and the home to some of the best fishing in the country.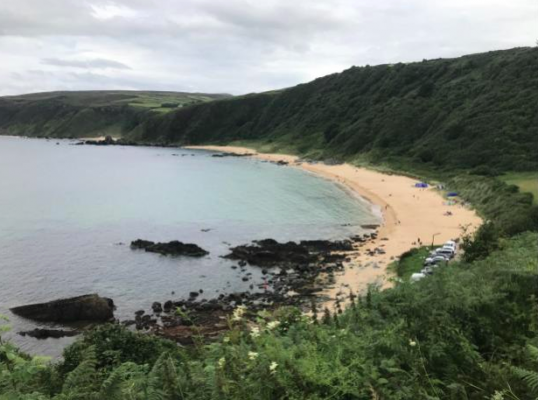 Graham had just came in from a quick session in the water and was successful in catching a few Tope along with other species.
Gary and myself quickly rigged the Jackson kayaks and set off into the bay in search of some new species and possibly a shark. We paddled out to the outer edge of the bay and got our rigs down. I generally fish with two rods, one set up with feathers and the second set up with a simple running ledger rig. This covers a wide variety of species and gives me the best chance possible of racking up different species.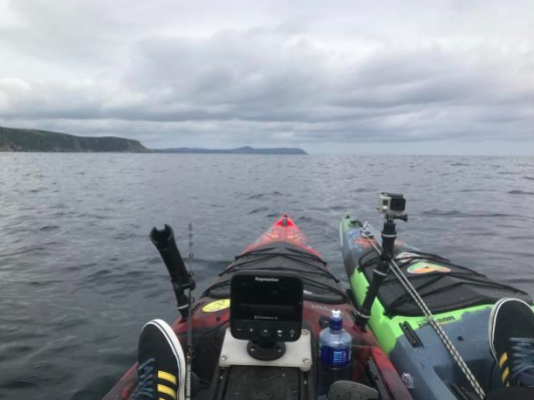 We only stayed on the water for a few hours as it was getting dark, there was plenty of small pollock, Wrasse and small flatfish in the bay on the sand. We never ventured out to the shark marks as it was quite rough, but planned to head straight out in the morning as it gave the weather time to settle down overnight for a short window of fishing before the wind was due to pick up again around midday.  We called it a day and headed in for some dinner, abit of crack around the campfire with the guys and a decent sleep for an early start.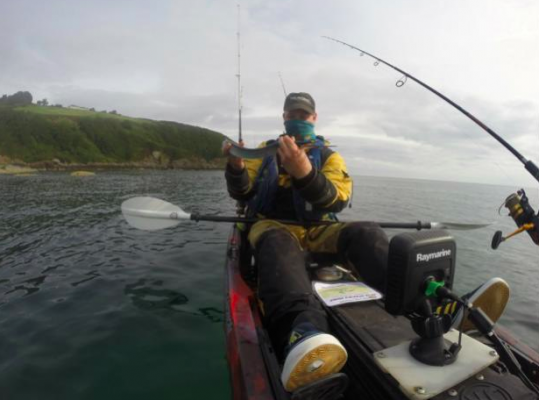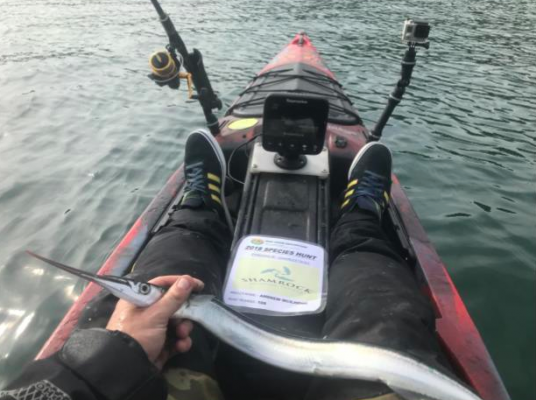 Early on Saturday morning Graham decided to change locations to target a larger species of shark (Porbeagle) slightly further up the coast with Michael. Gary and myself stayed put as we were after the Tope! A quick breakfast then onto the kayaks…
Within feet from the shore I was straight into Garfish (needlefish), this was a nice surprise and superb fresh bait for the sharks. I love the RAILBLAZA Rod Tube for its multiple uses, in this case I mounted them in front of me, facing rearward for trolling a small piece of fish skin along the surface to target the Garfish, it gives you a great view of the rod for bites and also quickly within reach if you do get a hookup.
We paddled pretty much straight out to the chosen mark for the shark and anchored up, the conditions were quite bumpy but pretty good. The tide run here is extremely strong resulting in us using 12-14 ounces of lead to hold baits on the bottom. The fishing was non-stop from the moment we put our lines in the water, there was plenty of mackerel for bait which was a nice bonus, as we did not have much with us.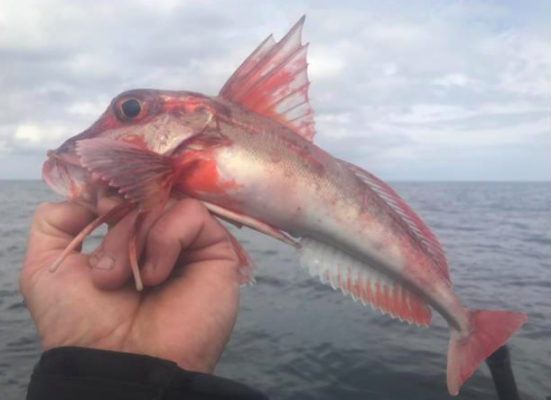 The first couple of hours resulted in plenty of Mackerel, Scad, Pollock, Coalie and I think every dog fish in Donegal to the point we had to start catching bait again. The tide went slack and with it so did the fishing for around an hour, at this point the wind started to really pick up again making thing slightly uncomfortable.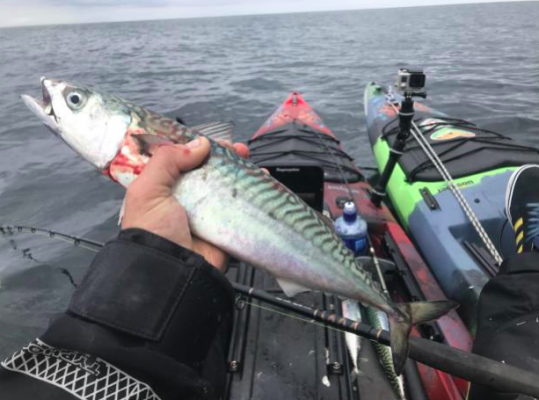 As expected though, once the tide started running again in the opposite direction the fishing picked right up again, and strangely the dog fish slowed down which soon resulted in some lovely Red Gurnard – and to my surprise my first ever Squid followed by another and another and so on.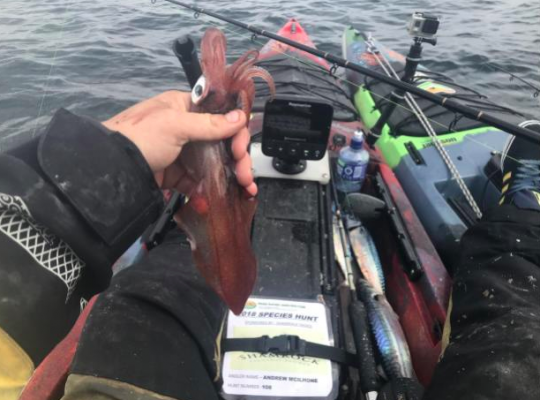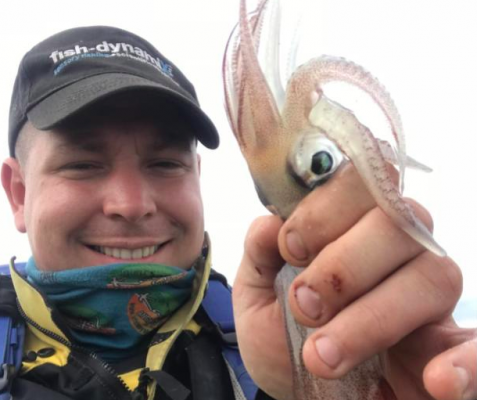 I had put a squid jig on my top swivel earlier in the morning but had forgot it was there. They are a beautiful creature, but equally cheeky at squirting you with water and ink once on the surface and near the kayak. 
I passed my setup over to Gary and he also caught his first Squid followed by a few more, while I concentrated on catching what I came for… the Tope shark.
The weather was constantly picking up and we were considering calling it a day as the offshore wind was quite strong at this point, plus the strong tide.
We started to pack up when my bigger rod took a nice "thump thump" followed by a small run… surely not another dog fish (also a very small shark species)? And then… "zzzzzzzzzzzzzzz", I gave it a few seconds before lifting the rod, and struck into it… fish on!! It was most surely what I came for by the feel of it. The Tope shark gave a great fight in the strong tide, but within a few minutes I had him on my knee, took a quick couple of pictures and then released him.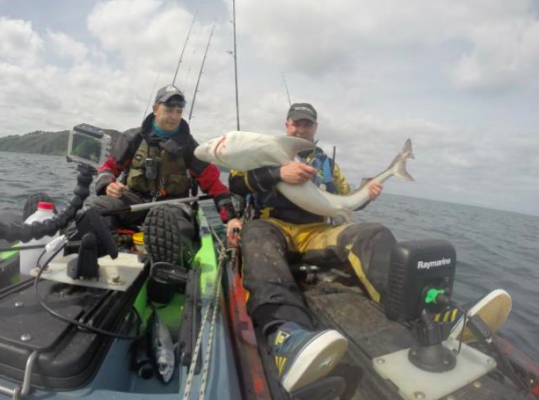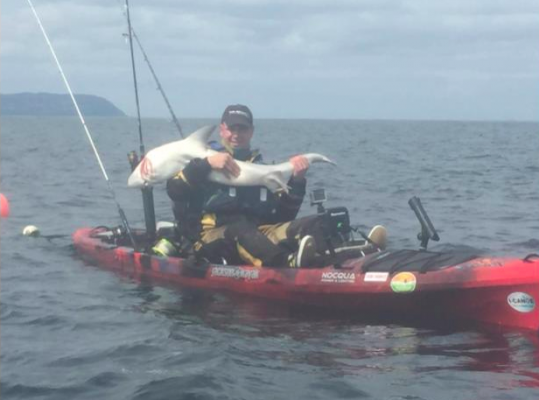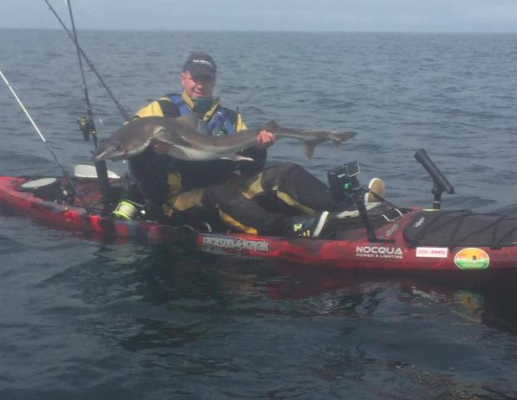 Mission accomplished.
This is by far my favourite place to fish in Ireland, it's always a struggle with the weather here as we usually have four seasons in one day. The scenery is unbelievable on the north coast not to mention the wildlife and fishing, I'm certainly looking forward to the next adventure up here.
Thanks to Jackson Kayaks, Fish-Dynamix, Nocqua adventure gear and Raymarine for your help over the years.