Here is another great post from our kayak fishing friends PESKAMA  in Spain…
we have copied this from there website and translated using Google translate so apologies for any mis-understandings in the translation..find
Following the line of the test benches , this time has come to Peskama the new signature material Zealand Railblaza is manufacturing a multitude of applications and uses for our kayaks.
Although this system initially devised Ross Pratt as a mounting system for accessories on the back of his quad, developed the initial concept to realize the advantages that this system supposed sailing. In this way since its first release back in March 2010 in New Zealand, his country of origin, expanded rapidly in Australia. Today its products are distributed to more than 30 countries and have demonstrated a commitment to continuous improvement in addition to an excellent service.
We want to thank first of all to Disvent Engineers , official importer in Spain, their collaboration for Peskama readers can keep abreast of developments in the world of kayaking and has made us partakers of testing these new accessories for our mounts. A company that was founded as a limited company in 1985, with headquarters in Barcelona and whose activity is not centered only in the marine industry, but also in the Automotive, Technology and Energy.
Technical Description: materials analyzed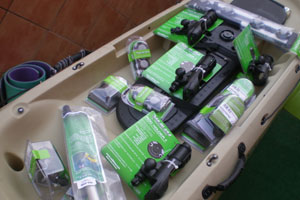 Among the wide range available to Railblaza and many applications, the first thing to note is its innovative mounting system through a universal call StarPort , with which we can anchor all components manufactured by the brand, as all restraints that shape, whether cane, probe brackets, gps, radio and a large etcetera. And with a single click, make sure the accessory and other unblock it, to poke. All this will allow us to attach any type of system without securing new bases. The same basis for all types of fixtures and fittings.
There are different types of bases depending on where the going to fix either a flat, curved, tube, etc … but they all follow the same line. This new base comes with a bracket with bolts to kayak, with a corresponding cap and rubber gasket to make lace mouth shut and keep out of water. At this point it should be noted that the bases bring a security system, which with a click on a tab we get the wall / accessory you've placed us can not leave the base.
On the one hand we have used the basis Starport , is a tabletop stand, which consists of three parts, the first circular base with fixing holes, a rubber grommet plug arm in one piece, and the top is the one that brings the star-shaped housing and has the security tab. This set comes with stainless steel screws, threaded both sheet to place with washers and nuts, bolts and with wood-plastic thread. Also, in the package itself find a detailed diagram for proper placement.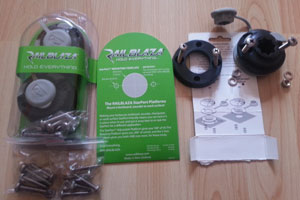 Detail of the base components Starport
The other type of base used was the Sideport , that unlike the Starport this base is to be installed in the vertical plane, and allows the placement of fixtures in awkward angles. Also have the same star-shaped housing and universal tab, so continuing with the versatility of the elements of Railblaza , we also serve to combine with any applicable you wish to use.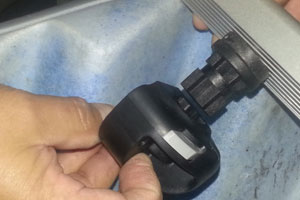 Furthermore, we made use of the cane Rod Holder of which emphasizes its robustness at first glance, have adjustable orientation, a safety clamp that we are not leaving the reeds, and a rear attachment that can remove or put depending on whether the heels of our rods are longer or shorter.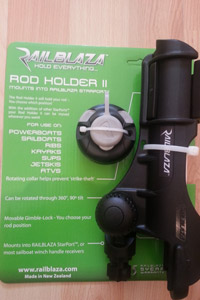 Another element that we have analyzed is the Tracport Dash coming to be a stern console on which basis placing Starport can adapt him any type of accessory, pole probes, fasteners for boat-gps, etc … It is a metal rectangular platform on the we can lay the foundations Starport and can regulate caught thanks to the interior. His attachment to kayak is by two bases either Starport or Sideport , or any other we need.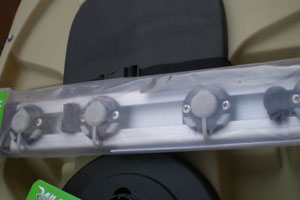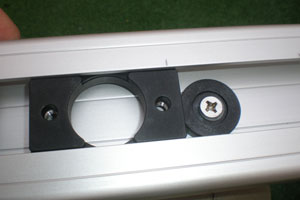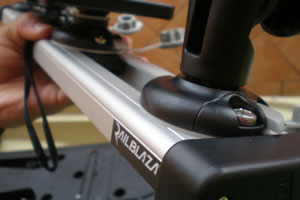 Another element is the platform for probe or any other electronic device needing a base, these we have tried both the 102 Turntable , such as 3-axis Turntable . These platforms enable its tilt adjustment and guidance, and are wide enough to screw on it or fix any appliance. His strength is evident, and fixation with the bases are fully trusted.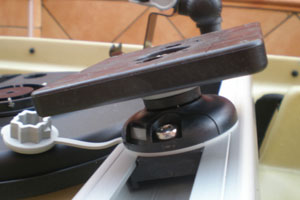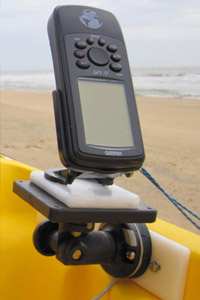 The next accessory is the GPS support , which is fully adjustable, with a metal housing and stainless and two clamping arms which serve to gps, together with a safety plastic strap. Besides the gps can hold other devices such as walkie or VHF radio, mobile phone, or even a bottle of water.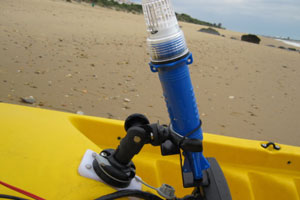 Another accessory that will surely wonders of fans to immortalize their fishing days is the Camera Boom,  an aluminum mast with a basis on which to hold our camera crew and allows height adjustments and angles, some of the most unlikely to get great pictures of our catches. Another version, the mast TELÉPOLE , which has at its end an anchor bases similar to Starport , so make possible the placement of any other element in the end as if the light NaviLight 360 .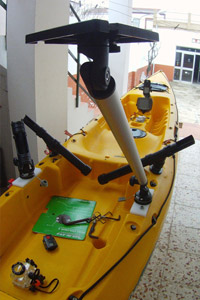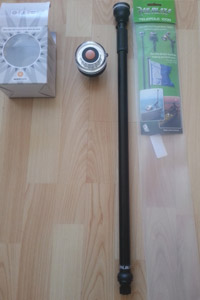 Finally, in this technical description we add Railblaza material strength which is reflected in the following table:
Source: Railblaza
Implementation
Tests by Peskama were conducted on four different kayaks, confirming the versatility of the fittings and all its possibilities of installation and use.
The initial installation is performed on a Ocean Kayak Trident 15, of our colleague and collaborator Raul Laglera  "Raulubi" . In it we can see that a console is installed Tracport Dash , along with two rod holders Rod Holder a probe holderPlat.Giratoria 102 and GPS support. In this configuration, Raul can easily control the action of the reeds, as there always are in view, as the probe and GPS, accessing them in a comfortable and immediate.
The accessory Tracport Dash becomes the bow console many kayakers use, or at least want to have. In this case, the Dash Tracport accessories we can have four more, which in our case we have configured as you see in the picture two sugarcane Rodholder II, a platform for the probe, and GPS-Mobile support.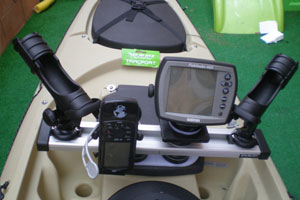 The attachment of accessories comes from the hand of basis paths Starport , and in turn the entire console Dash Tracport attaches to kayak through another pair of bases. Confirming once again the universality of this material and the multiple combinations that can allow us to do.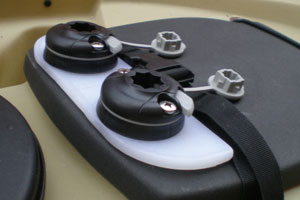 The modeling of this kayak we difficult at first to install this applet, which we solved reshaping the lid of the housing for the probe that brings this model and a cover fabricándole new Teflon on which would support Dash Tracport more consolidation and in a comfort zone of action paleo access.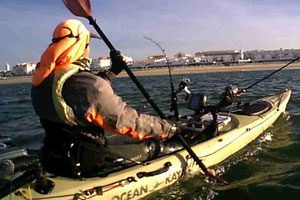 The second assembly is made of a Prowler Elite 4.5 of Ocean Kayak, our friend Paco Ramos "Kurrican" . For this occasion they have used a cane Rod Holder a GPS support , and a pole with upper base Camera Boom .
In this case we are presented with a typical problem in many models of kayaks and is the inability to access the inside of the kayak for the correct screwing the applets that want to put on the modeling of the boat. Besides, in certain models of kayaks as in this case, comes with standard embedded hardware which we can use to applique. We can ensure that the foundations Starport are totally watertight placing directly on the kayak, as you can see later in another mounted kayaks. But this time we opted for a solution that we can also help other kayakers undecided as to holes or inaccessibility in their kayaks.
The solution has been the use of small hand Teflon plates which have molded inlaid hardware to kayak. And once placed and screwed entrenched on these bases have Starport of Railblaza , getting our kayaks perfectly conformed without further holes and also reliability of 100%. For better aesthetics could use teflon another color, or paint directly, in this case we have left blank Teflon better understanding in the photos.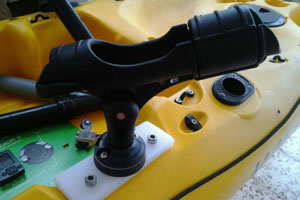 This kayak can see one of the great features that Railblaza gives kayakers. In the base case Starport bow, once placed it above the probe we can use the same basis to place the GPS holder to place a cane Rod Holder or support Camera Boom , as occasion demands or functionality we want to give at all times, so the versatility is amazing with this material Railblaza .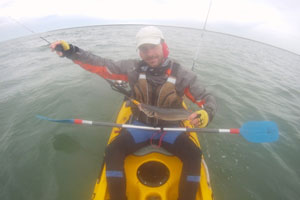 On the other hand, have been placed aft base paths with equal functionality, a priori to port will be placed on applying Rod Holder that along with the cane before the kayak will make a difficult and elaborate technique such as trolling, and that as seen on the photos Railblaza seem to have found the solution for a perfect combination of sugarcane and lentil Canin lead.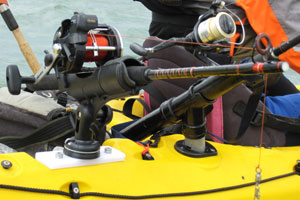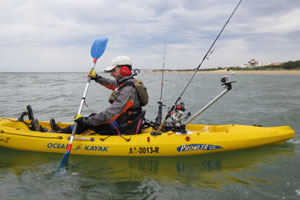 Likewise starboard base, will combine when needed for sugarcane Rod Holder , or to place the Camera Boom support , thereby achieving spectacular images from our fishing action from different angles.
The third assembly is made of a Ocean Kayak Prowler 13 , the comapñero and collaborator Angel "Mojarra" . In it we see three different models accessories. A cane Rod Holder a probe holder Plat.Giratoria 3 axis and GPS support .
This configuration is very versatile, because thanks to the star-shaped anchors, we can make different accessory configurations, such as a cane placing on top kayak, a probe holder (this time will be used for GPS ) and a mobile holder. All with great accessibility, as we can quickly reach any of the equipment.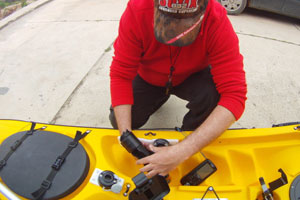 Following the idea of kayaking Raulubi able to get everything at first sight and bow for added comfort, this kayak accessories have been placed all around the probe, allowing fast and everything is accessible through the bases allowing Starport the relocation of all accessories as it suits us in one location or another.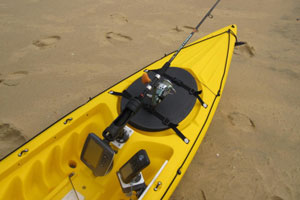 In this case also has seized on the basis of Teflon for laying the foundations Starport , but stress that is to avoid the inconvenience of not being able to successfully access the inside of the kayak and the fact leverage the embedded hardware that comes standard the kayak, but in any case the basis Starport of Railblaza are perfectly manufactured and prepared for direct placement with total leakproof and firmness.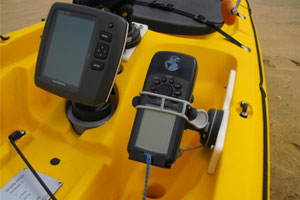 And the fourth and final assembly is what has been done on the kayak Disco Rotomod plus companion and collaborator "Louie" . This kayak model, stylish and simple lines has always been hard to seek accommodate the multitude of electronics and fishing equipment that today we carry in our kayaks, but thanks to the foundation, supports and components offered Railblaza of easy installation, we can assemble and disassemble them all within seconds, all that remained fixed in the kayak will be the basis Starport or Sideport .
The Disco +  did not offer the ability to mount the Tracport Dash on a flat surface using the Starports as a base, so it has seized the Sideports we have placed on the front of the cockpit of the kayak.
It was a bit more work, first we performed two holes to the ends of Tracport Dash , then a larger diameter drill or "countersunk" holes have rounded the screw head is perfectly embedded in the tray and not stumble when repositioned Starports overTracport Dash , and finally we changed the anchors that brings new holes to coincide exactly where we will install the Sideports .
Another problem we had to solve was the inclination of the walls of the bathtub where we wanted to place kayak Sideports thus did not fit the console. The solution is simple, put a flexible plastic rubber above the anchors that had some movement and not remain fixed in order to introduce them into the Sideports .
Once installed we can put in their 4 bases Starports moving through rail shaped tray, accessories we want or we require for a particular fishing day.
The next step was to install three  Starports along the kayak, one bow, one aft and one last behind the seatback.
Each will have a number of utilities, the Starport bow will post the Eye 25 , will serve as a fixed point mooring and so will use when carrying cane harvested past the edge of this ring so that they are secure, we come in handy especially in outputs or inputs to a rearing sea, if volcásemos from reeds not the bottom.
The Starport is set entirely aft to place the mast TELÉPOLE (this mast at its highest point holds the anchor in a star like the other components, where we can place any accessory Railbalaza , in this case when we decide to put the mast in This Starport , we will extend the maximum to place the light NaviLight 360.  can also put through some hitches that takes over any flag pole. Through these two elements will be more visible during the day and in low light, sunsets, cloudy days, foggy, rainy … etc..
The last Starport is located behind us right near the wardrobe cane "about right", that will possibly give you more utility. Normally we will use the TELÉPOLE Mast extended to the maximum and its anchor depending on what you want at that time, we will use the Light NaviLight 360 or camera support for video, photo, or both.
The panoramic view of the fishing action that gives us the camera on top of  Mast TELÉPOLE  is spectacular, a new perspective to give it enough use.
Another element that can be used in the latter base is the cane Rod Holder , if we catch a troll, will serve to separate the line of the kayak and watch the action of the toe, if we fish thoroughly, placing the cane facing forward have visible hand and cane pointer if chopped.
Conclusions
First thing to note material Railblaza is based Starport and the range of possibilities open to us with it, because with the same base can be placed in one location different fixtures, pole supports GPS, sounder, cameras, light, etc.. with functionality that entails. In addition to the versatility of all materials, evident in all the accessories, the hardness and strength of materials makes all the set is of high quality.
Considerations and suggestions
1. Bases universal easy to install. Useful for any kayak and location.
Two. Crowd of attachments other than those described here, on the website of Railblaza and especially in that of Disvent Engineers can find many more accessories and fixtures for our kayaks.
March. Excellent quality. Durability ensured, although being a new product so will have to see how it stands the test of time and prolonged exposure to the sun and sea.
April. Versatility and functionality.
May.  Setting security on the bases to prevent slipping or sconces move the least.
June. silicone cap with which we safeguard the star-shaped preform.
7. bases are supplied with a GPS tether that depending on the device to hold sometimes falls short. Peskama already initiated discussions with Disvent who after talking to Railblaza confirms that this problem has been solved, so more functionality yet of these applique.
August. 's aborcadado of sugarcane which hosted the reel would not move the reeds is done in the bottom, to which, in order to use kayak, already recommended to Railblaza fact that this gap come in the top, so that we are facing spools up and avoid them, if possible, splashes.
All Onuba Team montages and Louie are made based on our experience, there are endless possibilities of Railblaza component installation, as each kayak, each fishery, each person, some will like more than one way or other.
This has been our analysis, an independent opinion, sincere and based on our experience as fishermen from kayaking.
Team Onuba and Louie. © PESKAMA2013