Tackle Caddy Track Mount
In Stock
Part Number: 09-4151-11
If you're looking for a tackle storage solution that's just as versatile and durable as you are, the Tackle Caddy Track Mount is exactly w...
1627 in stock
Tackle Caddy Track Mount
Product
Specifications
Get ready to head out on the lake with everything you need in one place! Our Tackle Caddy Track Mount attaches tool-free to most gunnel tracks, so you can customize the placement and make sure your fishing gear is always within reach. No more bulky tackle boxes or fishing cases; just strap it on, store your lures and essentials, and catch those fish!
Features:
- Holds 2 x Plano 3400 series Original Stowaway tackle boxes or similar
- Slots for pliers, keys, lures, phones, VHF's, binoculars, drink bottles, sunblock, mugs & much more...
- Supplied as a kit, easy to assemble
- UV resistant material
Parts Included:
1 x Tackle Caddy
2 x track hardware
1 x 800mm (31.5") of 3mm (1/8") bungee cord for tool and tackle box retention
Weight
1.03lbs
Material Composition
UV Stabilized Fiberglass Reinforced Plastic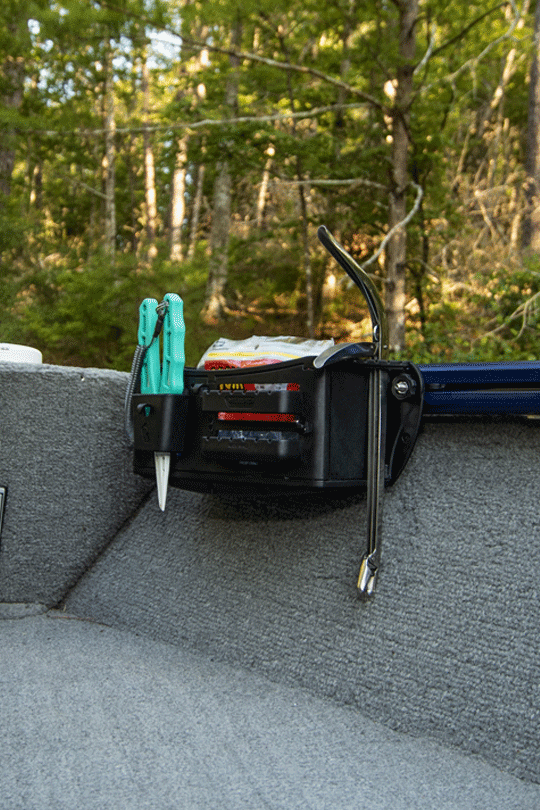 Tackle Caddy Track Mount Overview
TACKLE STORAGE SOLUTION - The Tackle Caddy Track Mount is perfect for anyone looking for a versatile and durable tackle storage solution. This handy device attaches tool-free to most gunnel tracks, so you can customize its placement depending on your space and needs.
EASY TO USE - There's no need to bring extra tools or cases with you out on the water—just attach it, then store all of your lures, tackle boxes, pliers, and cell phones with ease. Thanks to the removable TracMount hardware which comes included, you can put the Tackle Caddy where it counts when fishing and quickly stow it away when not in use.
MOUNTING OPTIONS - So don't worry about running out of mounting options; relax knowing that your essentials stay close by but out of sight! The Tackle Caddy Track Mount fits most gunnel tracks, so you can find the perfect placement for your tackle storage needs.
RAILBLAZA Q&A
Customer Questions & Answers
Q & A
Hello, I'm really interested in using the Tackle Caddy Track Mount on my Hobie Lynx kayak with rails. Do you have any 90 degree track mounting options so that I can install this caddy on my rails?
The TracLoader SidePort will do the trick!
Will I need different hardware to mount in my Lund impact
The LUND Impact boats have a 45 Degree Track. Currently the only solution to mount to your boat would be 2X TracLoader 45's.
But I can recommend looking at the StowPod that would only need 1X Tracloader 45 to install.