Kayak Motor Mount
$147.00
In Stock
Part Number: 04-4091-11
Make your kayaking experience even better with the RAILBLAZA Kayak Motor Mount! Whether you need to get to that perfect spot on the lake faster or jus...
575 in stock

Kayak Motor Mount
Product
Specifications
Cruise into your next kayaking adventure with the RAILBLAZA Kayak Motor Mount. Installing your trolling motor is a breeze - it takes just seconds to transform your paddle-only kayak into a boat ready for motor navigation. Plus, customize your setup with rod holders, lights, and camera mounts for any outdoor excursion. Get out on the water in no time with RAILBLAZA!
Features:
- Simplest way to attach a trolling motor to your kayak
- Includes all necessary hardware
- Quick transition from paddle only to motor ready
- Able to add RailMount 32-41s to the mount tube for added customization
- This bracket will fit almost all models of kayak, and is suitable for, but not limited to, the following motors
MinnKota, all transom mount models, MotorGuide, all transom mount models And More...
Parts Included:
1 x Kayak Motor Mount Bracket
2 x RailMount 32-41
2 x Male-to-male adaptors
2 x StarPort HDStainless Steel Hardware
Weight
4.57lbs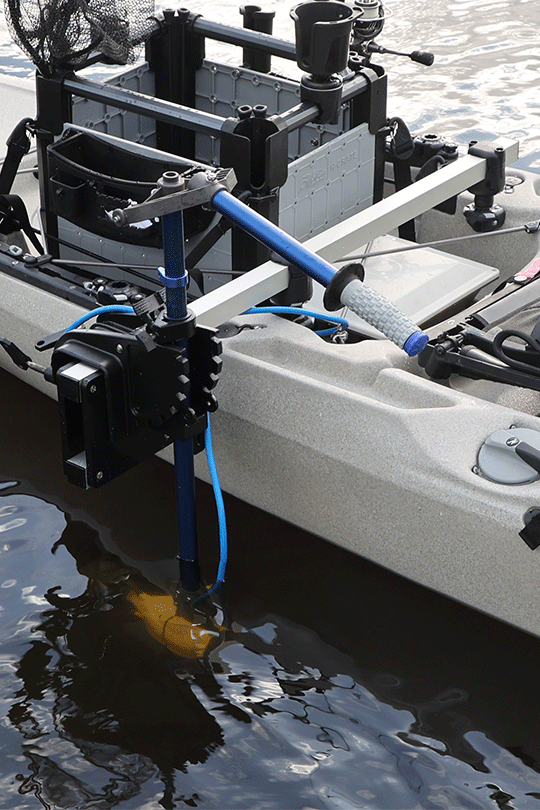 Kayak Motor Mount Overview
MAKE YOUR KAYAKING EXPERIENCE EVEN BETTER - The RAILBLAZA Kayak Motor Mount lets you add a trolling motor to your kayak quickly and easily, transforming it into a motorized vessel that can take you wherever you want to go.
SIMPLE INSTALLATION - No tools required! Just clip the mount onto your kayak and attach your trolling motor. It takes less than thirty seconds to get set up and ready to go.
CUSTOMIZABLE - Add rod holders, lights, or camera mounts with the RailMount 32-41 accessory (sold separately). This fast and simple solution from RAILBLAZA gives you the flexibility to customize your kayaking experience however you want.
EASY TO USE - The RAILBLAZA Kayak Motor Mount is easy to operate, even for beginners. With just a few simple steps, you'll be on your way to an adventure-filled day on the water.
RAILBLAZA Q&A
Customer Questions & Answers
Q & A
Will this mount support a 70 lb thrust trolling motor that weighs 30 lbs?
Can the mount be placed in the center, I have a Fishcat I9r and would like to mount my motor forward of my seat?
You can install it anywhere you would like that make sense for your application. I can't say how the boat will handle mounting it in the middle tho.
Hi, I'm looking at purchasing a kayak motor mount for my inflatable kayak. Its a Saturn FK396 fishing kayak. It has D rings for additional seats and aluminum platforms for additional gear but I would like your guys opinion on the best way to mount it? If you could take a look at the kayak and let me know what brackets / mount id need ill place an order today! Cheers, Brandon
You would need 2 of the RibPorts. To install them you would to heat up the RibPort with a heat gun or hair dryer to make it bendable. Then glue them on with 2 part epoxy and let set for at least 2 days.
How can this be mounted horizontal? In the video, it appeared the anchors are mounted attached to the side of the kayak wall. I own an inflatable Scout 430, which have flat aluminum benches. I feel like this would work perfectly with my Bixpy, just need a way to mount it to the bench?
The StarPort HDs would be installed onto your aluminum bench. the extra support for the side of the kayak would not need to be installed for it to work with your boat. We do not have a Scout available to see how the seats are installed. You would have to make sure the seats can handle the torque of the motor.
Will your kayak trolling motor mount (item 04-4091-11) attach directly to the universal (Scotty) mounts on my Aquaglide kayak? Thanks.
The 2in x 4in mounting plates on your kayak will take StarPort HDs, which you would then mount the trolling motor mount to.