Bill Lowen has perfected swimming a jig for bass through decades of trial and error fishing tournaments and fun fishing all over the country. He offers a lot of great tips for how to work a swim jig, choosing the right weight, using trailers to give it the right buoyancy, and a lot more.
Bill demonstrates a lot of what he has learned and will save you a ton of time if you are wanting to get better with a swim jig. He catches bass after bass on an early spring cold front day in south Louisiana while explaining many of the nuances he has figured out to catch more bass.  Featured products listed at the end of the article.
In the video demonstration below its springtime water temperatures, about 55 to 59 degrees and bass are wanting to spawn. Around that time I feel like if the water is clean there's no better bait than a swim jig, any time you can find a clean spot of water that's typically where those fish are going to set up and spawn and this time of the year you run a swim jig over that stuff your chances of finding a bass are really really good.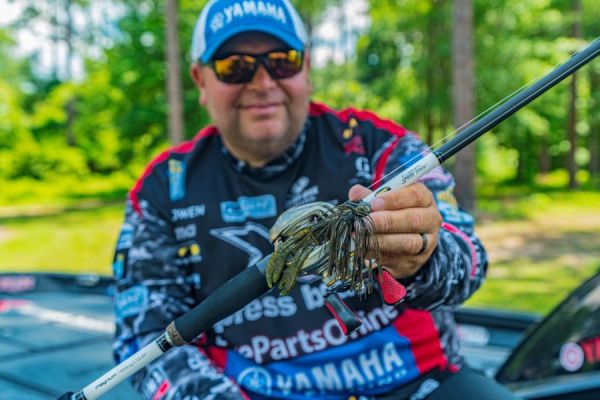 During frontal conditions as in the video below, I like to do what I call "hover jig or floating jig" I don't like to scoot it along or move it really really fast.  I like to keep it in the strike zone as long as I can and a tip I can give you for that is, use a trailer that's got a lot of water displacement that'll help you keep that jig up there.  I then go with a quarter ounce head, I know a lot of guys like to swim a 3/8 ounce head but typically for me it's always a quarter ounce so I can keep that jig in the strike zone as long as possible
FEATURED PRODUCT: All available through Wired2Fish
You Might Also Like These Blogs 
Download the latest RAILBLAZA catalogue below 

Find out more about Bill Lowen in his pro team bio link below