Guest post by Aaron Walker at Team Joker
Which RAILBLAZA mounts, attachments and accessories do you find most useful during a fishing trip? Guest poster Aaron Walker from Team Joker tells us which of our products he likes to bring along on a fishing trip.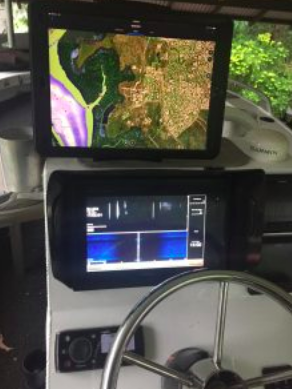 The line of versatile RAILBLAZA products has significantly improved the way I fish, whether I'm trolling out wide for Tuna or Macks to snag, or bashing the timbers when I'm up the creeks chasing Barra.
RAILBLAZA has helped me set up my boat without spending a massive amount of money. Their range of kayak and fishing mounts and accessories are innovative and simple to easy to install.
The ScreenGrabba R-Lock iPad/Tablet Holder is definitely one of these products.  The tablet holder mount from RAILBLAZA has allowed me to connect my iPad pro as a second screen anywhere on my boat.
Using the Wi-Fi from my sounder, I am now able to flick/troll and still be able to watch for any fish activity under the boat or off to the sides. I now no longer need to spend my entire fishing trip going back to my sounder at the back of my boat to check activity.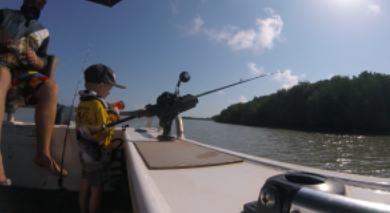 The ScreenGrabba R-Lock iPad/Tablet Holder mount is so easy to install due to the many types of StarPorts RAILBLAZA have to offer.  
From the basic RAILBLAZA boating StarPort, to the RAILBLAZA RailMounts (there different RailMount sizes available), the SidePort mount or even the stick-on QuikPort mount – they are all affordable and easy to install.
I can easily move my ScreenGrabba R-Lock iPad/Tablet Holder or other RAILBLAZA mounts and accessories like the Rod Holder II and DrinkHold cup holders anywhere on my boat.  To me this was a game changer, as I no longer had to fix mount anything permanently onto my boat! I could now easily move it around my boat to suit the type of fishing I wanted to achieve on any given day.
By attaching the ScreenGrabba R-Lock iPad/Tablet Holder to your boat, it means you can then take your fishing to the next level with mounts for your GoPro or even day camera gear – RAILBLAZA have a wide range of kayak and fishing boat camera pole extensions and GoPro mounts.
These products are in a league of their own. Every angler sets up their boat or kayak differently, and the team at RAILBLAZA have created a simple but effective product to suit everyone's style.
View the full RAILBLAZA product catalogue to see more.