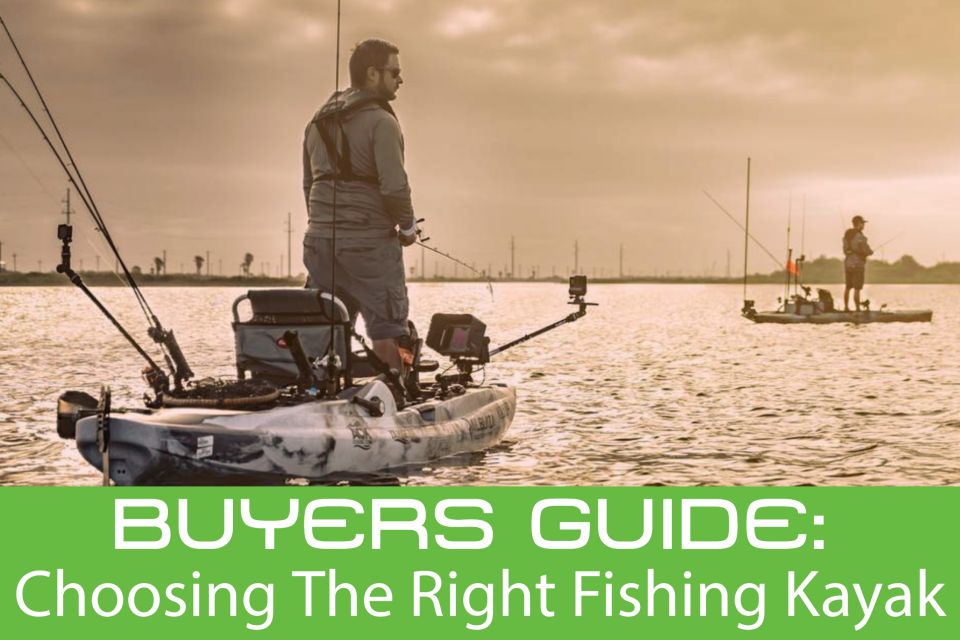 The rapid growth in the sport of kayak fishing around the world has increased the number of choices for you to pick from. Whether you're planning to kayak fish for freshwater species like bass or venture out into the ocean, this guide to choosing a fishing kayak is designed to give you the knowledge to make a better choice when buying your first fishing kayak.
There is not one fishing kayak that can do it all, but the latest designs on the market get close to being an allrounder with little compromise. Whilst certain fishing kayaks are designed for a specific body of water, it is possible to find a model that will cross over safely between protected and open water and this guide will help you understand what to look for.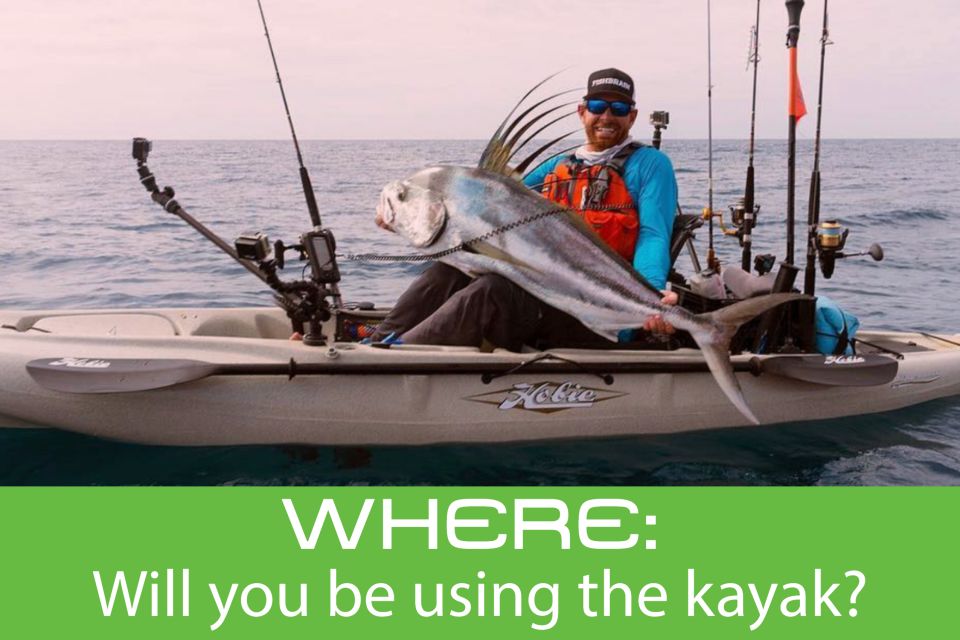 Where will you mostly be using the Fishing Kayak?
This is the first question to identify, knowing where you will be using the kayak will help decide on many important design factors like width, length, colour, storage and more. Protected water like lakes, dams and rivers are often calm and have boat ramp or waterside access close to the area you're fishing, meaning you can keep things simple with length and storage.
Open water like bays, inlets and offshore reefs offer different challenges so the fishing kayak will need to have features designed specifically for the open water environment. These features can include the ability to stow & secure all items on deck in watertight compartments, lower centre of gravity seat position for increased stability in swell and waves, hulls designed to carry you forward efficiently into wind and swells. Advantages of length and width covered next.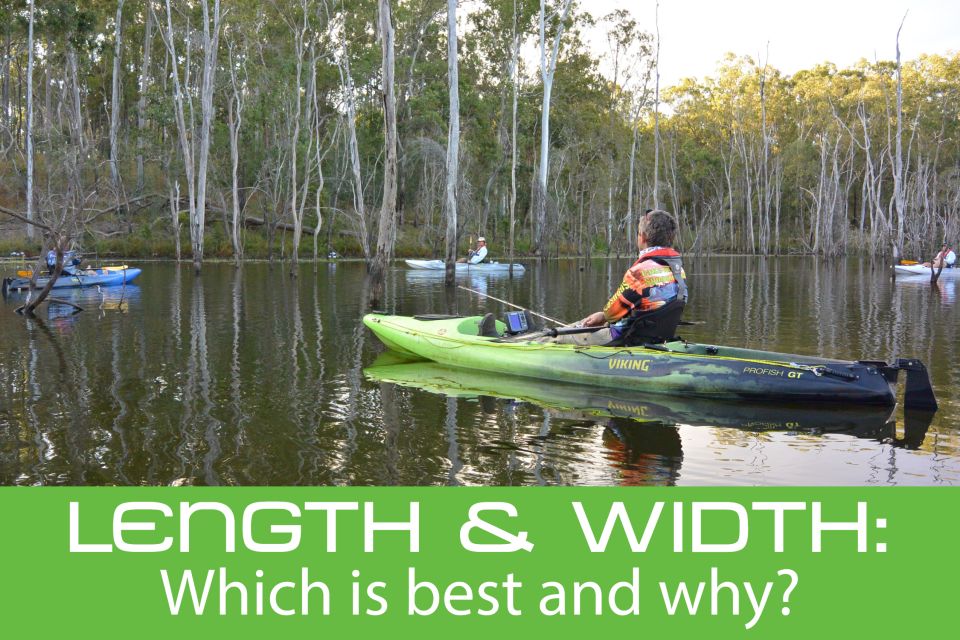 What length and width are best for a Fishing Kayak?
Looking at the above "where will you paddle it?", you can start to see why it's important to know more about the subject of hull design. The weather on lakes and dams can change, making them seem more like the open ocean, so a fishing kayak with a hull designed for open water would equally be a good choice here. 
Kayak shape fundamentals –  The Basics
Longer and narrower kayak hulls equal greater water length, less drag, so greater efficiency and higher hull speeds. They can be less maneuverable so will need a rudder to assist in turning and might not best suit skinny water fishing like mangroves, narrow creeks etc. Narrower will often mean less stability but not always, if the seat position is lower set, the stability is increased as the centre of gravity is lower. Pay attention to the height of the seat position when looking at narrower, more performance-based fishing kayaks.
Shorter and wider kayak hulls equal greater maneuverability and increased stability. They will be easier to turn and position in tight situations and wider hulls offer increased stability which is great for higher seat positions and bigger loads.  Shorter and wider hulls generally create more drag in the water so will be slower and less efficient over distance.  The higher seats and slower hulls are generally not as ideal or safe in open water environments.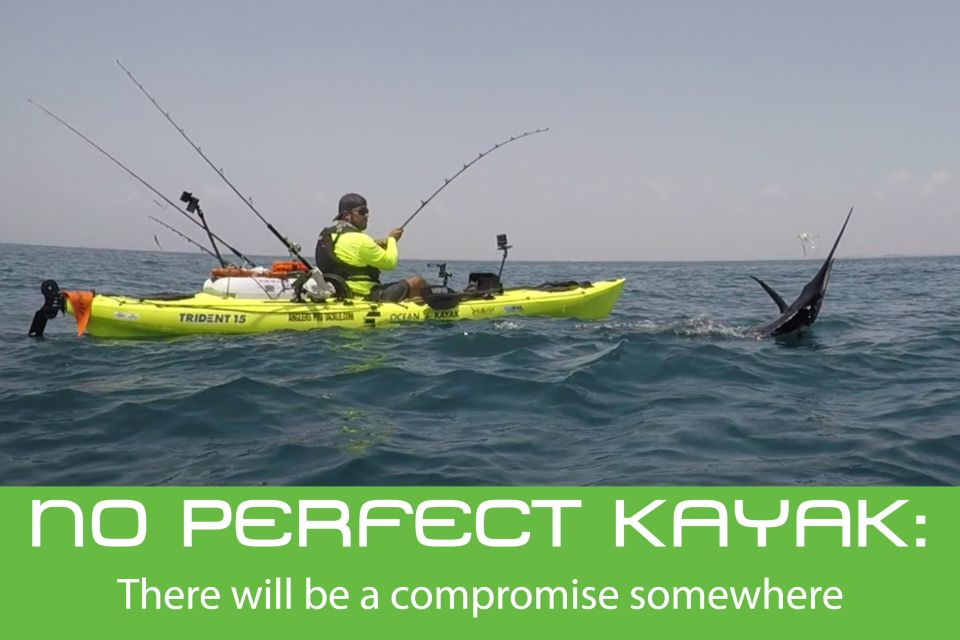 As mentioned in the opening paragraphs, there is no fishing kayak that is best for all situations, so there will be compromises needed to achieve the right kayak for your needs. As much as there are fishing kayak designs that are specialised for a style of fishing or environment, equally there are designs that can cross over into different styles and environments. Knowing what's important to you will help decide on the things that you may need to compromise a little on when choosing.
Sit on or Sit in?
The most popular fishing kayaks of this day are Sit on Top (SOT), they simply are better open platforms to work out of offering greater ability to practically customise to suit your needs. Sit on top is easier to get on and off, has self-draining scupper holes should you take on water and is generally less restrictive for the activity of fishing. Suitable for open and protected waters SOT kayaks will appeal to all levels, from beginners to advanced paddlers.
Sit in kayaks (SIT) with larger open canoe style cockpits can also be effective fishing platforms. Best suited for protected waters and intermediate paddlers due to the added risk of what to do should you capsize. Advantages to sit-in kayaks for fishing include being less exposed to the elements, excellent stability as your seat is below the water and often will appeal to the mare traditionalist paddler/angler wanting to keep things simple.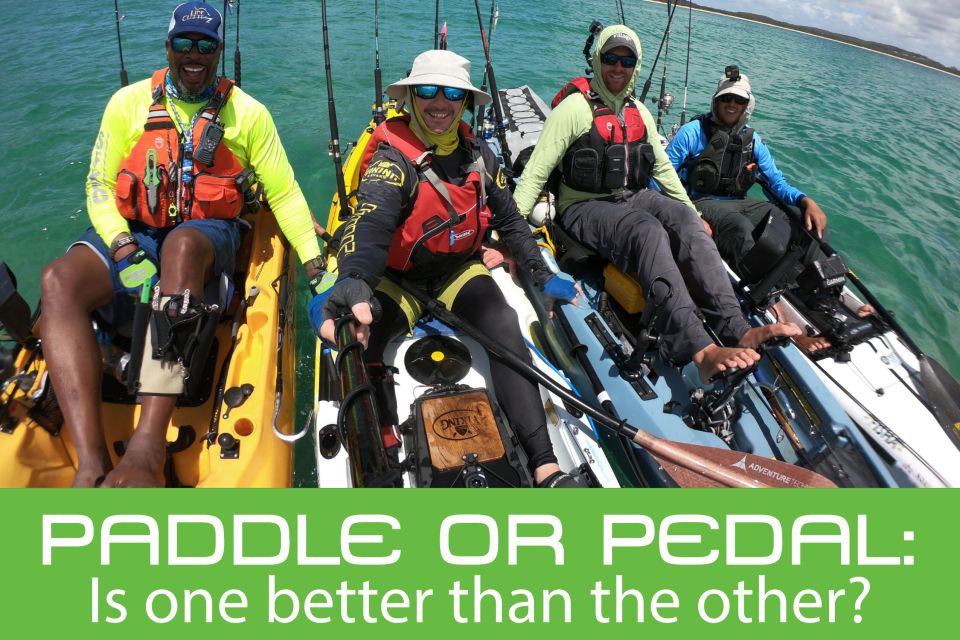 Pedal or Paddle which is better?
Whilst this is mostly a personal preference decision there are few advantages to each that are worth pointing out for your consideration. Neither is better than the other, they both have their place and in the perfect world, most kayak anglers would be happy to own one of each! 
Pedal Fishing Kayak Pros
Hands-free fishing with only one hand required to steer. Hold in currents and wind.
Using leg drives can be more efficient, larger muscle group
Wider and flatter cockpits making it easy to stand and sight cast
Purpose designed deck layout for ease of adding key accessories
Paddle Fishing kayak Pros
Generally lower entry price points and often lighter, less complicated to transport
Can paddle in shallower water without risk of damaging a pedal drive or catching on weed etc
More suitable choices for open water, lower centre of gravity, adequate storage etc
Less working parts to maintain and quieter when trying to be stealthy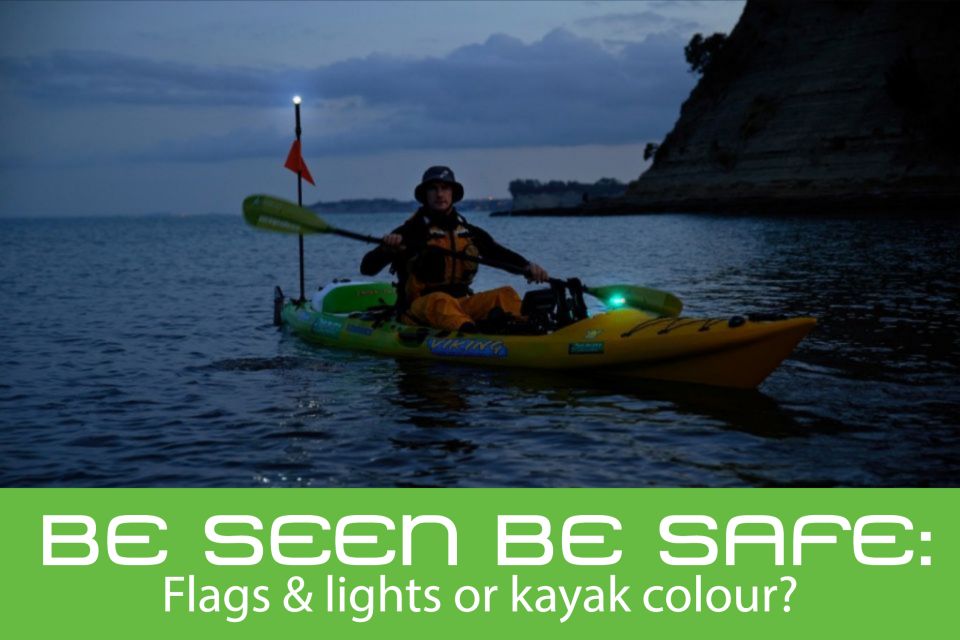 Is colour important for safety?
Whilst brighter is always going to be easier to see in most conditions that's not a guarantee. Low light and big swell can make fishing kayaks very hard to see by other vessels. As a kayak angler, it is always best to assume that the skipper of an oncoming vessel has not seen you and make yourself as visible as possible. Use a flag like the Flag Whip or Visibility Kit which includes an all-round white light is a must-have in low light. Carry a torchlight which can be directed toward the skipper or carry a foghorn. If in doubt, or if you don't feel you have adequate visibility for the situation then stay close to shore or don't go out.
Transport & Storage
Now you have a better understanding of fishing kayak designs and purposes the very next thing to consider is how you're going to get it to and from the water and where are you going to store it.
Roof racks – are generally the best solution, Sit on top kayaks do not require cradles as they can simply be flipped upside down and strapped on. Many of the pontoon/twin-hull styles today will also sit comfortably on their hulls on the roof racks without risk of damage to the hull. There is a range of load assist products on the market to suit all budgets and situations so don't let kayak weight put you off car topping, it can be done without risk to you or your car.
In the tray of your utility vehicle or truck can also be an easy way to transport the fishing kayak as can a trailer if that suits you better. Just know your local rules for overhanging lengths to avoid fines and risk to other vehicles. Multiple kayaks can be carried in any of these situations, just ask your local roof rack or kayak specialist for the information.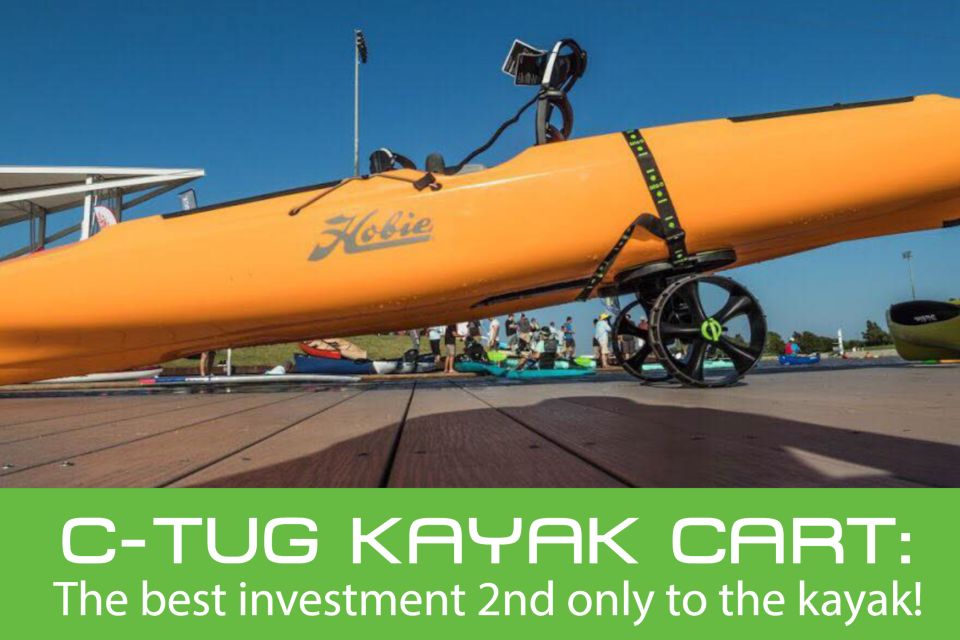 Kayak Cart – Hands down a must-have for kayak fishing kayak whether you need to walk a short distance or far. Put the kayak on the cart, load your gear and walk to the water. The C-Tug Cart is "one size fits all" and has the option of the SandTrakz wheels which will make it 50% easier to pull the kayak over soft sand. The cart can then be pulled apart and stowed in the kayak rather than leave it at the water's edge.
Storage – Keep the kayak off the ground and out of the way by hanging it using the RAILBLAZA Wall Sling, a simple, easy to use and affordable system. Hang the kayak in the garage, against a wall or fence outside. Certainly, don't leave the kayak stored on the cart, as this can damage the hull. If you can't hang the kayak for whatever reason you're best to lay it on its side against a wall rather than leaving it on its hull.
Summary
Without a doubt, the best way to truly know more about which kayak is going to suit your needs and abilities is to visit a local specialist store who is willing to let you try a few before you buy. Most specialised retailers hold regular demo days. This is a fantastic way to help you, and being a local specialist store, they will have someone on staff who knows the areas you're planning to fish, you can never go past local knowledge.
Contributor for this article is Pro staffer Jason Milne aka Paddle Guy who has been in the kayak industry for more than 15 years from sea kayak guiding to retailing and wholesaling some of the world's best brands. He is now a very active part of the worldwide kayak fishing community and based on the beautiful Sunshine Coast, QLD Australia.  Check out Jason's Pro Staff Profile HERE.