In this blog we talk to Scott Bryant, local QLD Australia bass angler and pro team member for Sunstate Hobie, about how he catches Australian Bass in one of Brisbane's more popular Australian Bass fishing destinations, North Pine Dam, also known as Lake Samsonvale.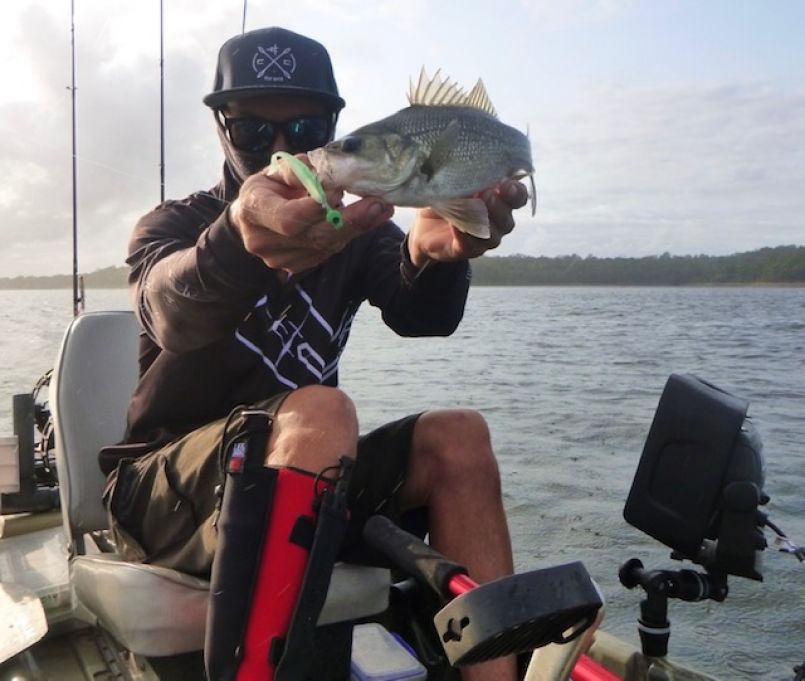 North Pine Dam is possibly my favourite dam in South East Queensland. Located in Brisbane, QLD Australia, It has everything you could ask for in impoundment fishing for Australian Bass, from weed banks and trees to deep water schooled bass.
North Pine Dam (Lake Samsonvale) has a very proactive re-stocking program run by Pine Rivers Fish Management Association, see details of the most recent stocking activity:
On Sunday 9th December, 2018 –  31,700 Australian Bass Fingerlings and 1,000 Mary River Cod were released into Lake Samsonvale.
The fingerlings were released via the "Scatter Release" method ie 2000 fingerlings were taken at a time by PRFMA Members in their Tinnies and released into different parts of Lake Samsonvale. Experts agree that the fingerlings have a much higher rate of survival when released via the scatter release method than the spot release method. (ie all fingerlings released at the one spot within a short time frame window)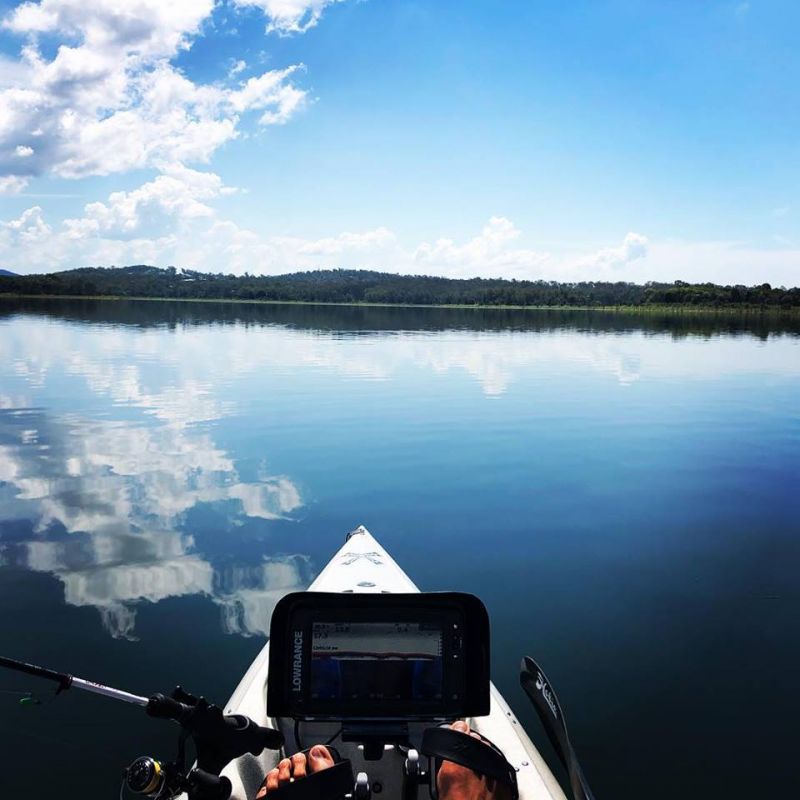 The Mary River Cod fingerlings were released into the upper reaches of the North Pine River where the habitat should be more conducive to natural breeding.
Since 1990 the PRFMA has released more than 2million  fingerlings into Lake Samsonvale as part of our conservation stocking program.
The outstanding efforts of the Volunteers will ensure a much greater survival rate for the Fingerlings than if they were all released in one spot. 
The newly opened kayak launch area at Forgon Cove just off Samsonvale Rd is well setup perfect for launching my Hobie Outback fishing kayak with ample parking, toilets and a picnic area.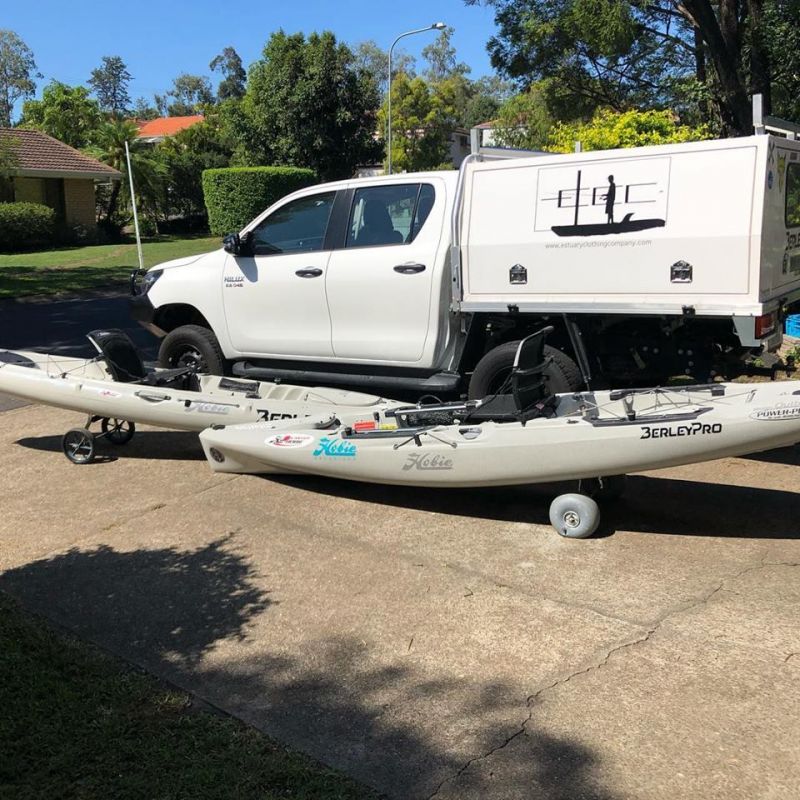 Here's a couple of insights which focus more on the bass schools found in the deeper waters, to do this I use the sidescan function on my Lowrance Elite Ti9 sounder to search around the points and drop offs in waters ranging from 10-15m. It can take some time but eventually you should find them.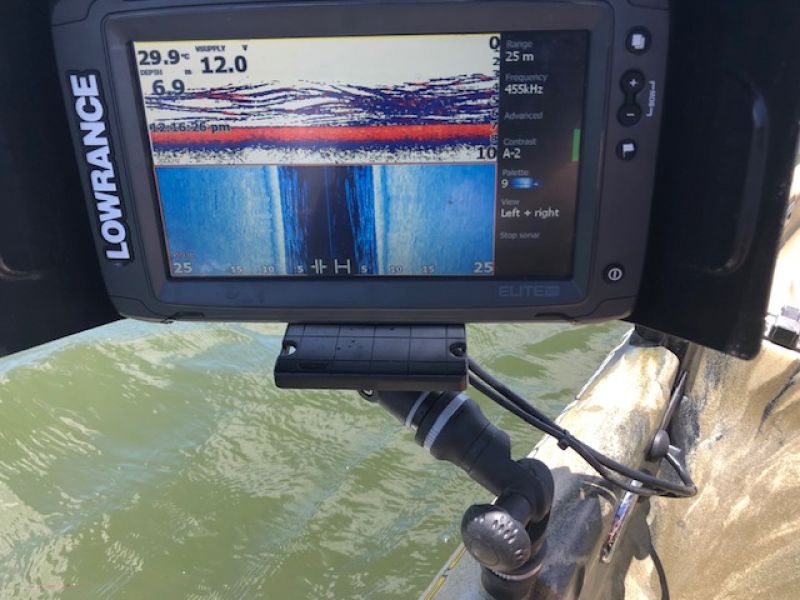 Scott prefers the RAILBLAZA sounder mounting options better than other products on the market due to the strength on his heavier Lowrance Elite Ti9 "they just don't move where others don't get tight enough to hold it firm"
Once I locate the fish its time to get down to business. Matching the hatch is the biggest key to this dam, most of the food consists of smaller baitfish and redclaw crayfish so the Keitech easyshiner 3" in Holts Herring and Ayu on 1/4 ounce jigheads and Pros Factory Hybrid bass jigs in 3/8 are my go to lures. Slow rolling them through the schools has been the most successful technique but if things are a bit quiet and they're shutdown then a few quick rips normally get them going.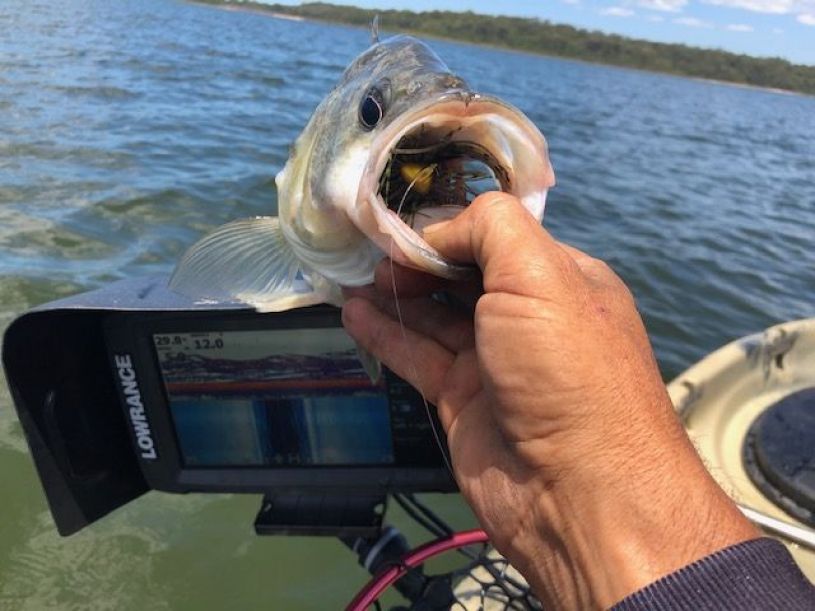 Like more Trip Reports & Tackle Tips? Sign up to our Newsletter for regular updates HERE  
As with any dam there are a few key things that will definitely help:
Match the hatch, size and style of lure should match what the fish are eating.
Food source, find the bait and generally the fish are not too far away.
Sounder, learning to read and understand how your sounder works can be the difference between a tough day on the water or the best day.