What you always wanted to know about Belly Boat | The right accessories: Waders, boots and fins: When looking to buy your first belly boat you will find there are a lot of important accessories to choose from, in this article the team at Percherry share their tips for choosing the right waders, boots and fins for your new belly boat. 
German language version below – Click Here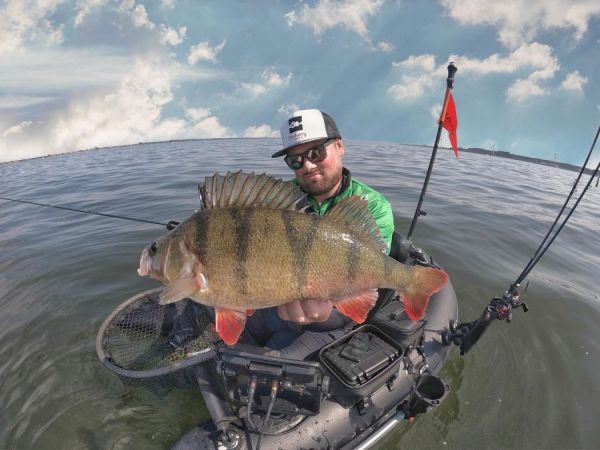 Those looking into the purchase of a belly boat will soon discover that there is now a large, almost infinite selection of different models. The same applies to some of the optional accessories such as rod holders, fishfinders etc.. If you decide to buy a belly boat, you will soon find out that this is not enough – waders, fins, life jackets, echo sounder, batteries, rod holders and much more also play an important role for a great experience (and make your wallet shrink quickly).
For this reason, in this series of blogs, we want to share a little about our experience on the water, our tailor-made belly boats the accessories used – from the tailor-made battery case to the suitable lighting and motorization, there will be some step by step assembly instructions – so stay tuned for future blogs.
Percherry tested and approved:
We do not introduce anything that we do not stand behind 100% and have already tested it successfully on the water ourselves. We are not afraid to give our honest opinion in order to provide the right information for you.
The right waders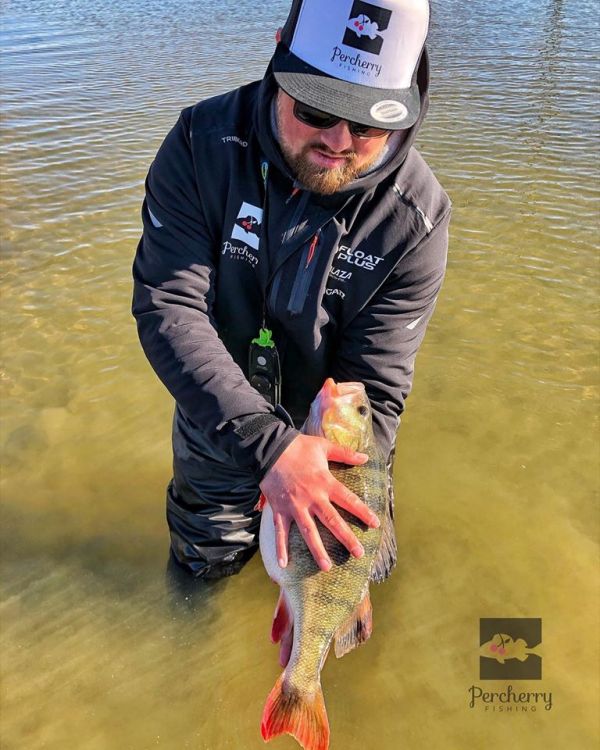 Basically two variants of waders have proven themselves for the belly boat. On the one hand, the breathable waders, mostly made of a water-repellent, multi-layer breathable material and on the other hand the well-known version made of neoprene. Both are usually offered either with a non-removable boot cast directly onto the trousers or welded on, or with a welded-on neoprene sock.
What you finally decide on remains a question of taste or faith. For our part, we use breathable waders with neoprene socks out of complete conviction and wear an additional neoprene boot to protect the waders – both in summer and in winter. The reason for this is quite simple – a breathable wader gives us more flexibility – so we can react better to different weather conditions.
In summer, one pair of functional underpants is usually sufficient and in winter, the onion principle is used. For example, at temperatures around freezing, we wear long, breathable functional underpants and over them long fleece trousers (we spend more than eight hours on the water).
Materials that transport moisture away from the skin and release it into the environment have proven to be effective as an onion layer. This means that we need garments that provide this one-sided moisture transport and do not store it. At this point, it is, therefore, better not to use cotton, as it rather prevents than promotes moisture transport (cotton tends to store moisture).
Anyone who has tried this before knows the unpleasant feeling after a tour: one suspects at the first moment that the waders have leaked in the crotch. But it's not. Rather, cotton has absorbed all moisture like a sponge. Instead of cotton, it is better to use synthetic functional fibres such as polyester or virgin wool or merino wool.
For which waders you finally decide remains a matter of taste. But consider the following when buying: Waders were developed, as the name suggests, for wading, slow movement in the water and not for sitting in a Belly Boat for hours. Why is this so important? Waders are usually very sensitive to friction, especially at such sensitive seams. In many cases this results in the waders leaking sooner or later and must be patched or replaced accordingly. We have therefore switched to using good and inexpensive waders in a low price segment. A good and comfortable fit and a supplied wading belt are important. This prevents the wader from filling up with water in an emergency.
Are waders safe? The question often arises whether one can be pulled down through full waders. As a rule, this is not the case – on the contrary. The reason for this is quite simple, the density of the water is always the same – whether inside or outside the waders. Should you fall into the water with your waders, you will soon notice that in combination with a wading belt, due to the enclosed air, it provides more buoyancy. In the event of fainting, however, there is a risk of drowning. A sufficient life jacket is therefore always obligatory.
Percherry's Wader recommendation:
Exquisite G2 breathable waders with 3.5 mm neoprene socks and wading belt (XL at a height of 1.80m)
Neoprene booties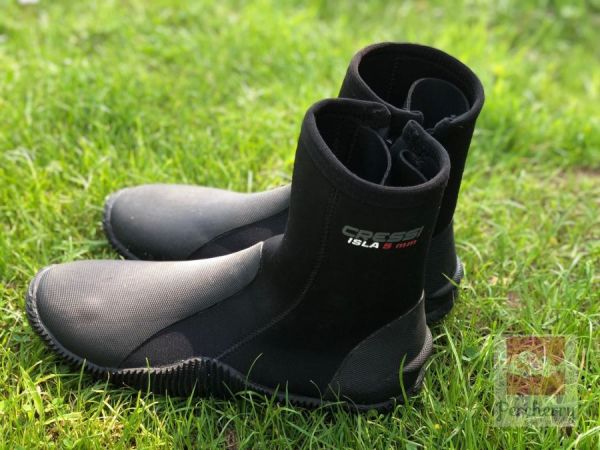 If you decide to use waders with neoprene socks like we do, you should not do without the purchase of additional neoprene booties. Firstly, the additional neoprene layer insulates additionally and secondly, it protects your waders enormously. Even the smallest stones are enough and the waders leak from the neoprene socks – and they cannot be fixed. Therefore, never just walk through the terrain with the waders' neoprene socks.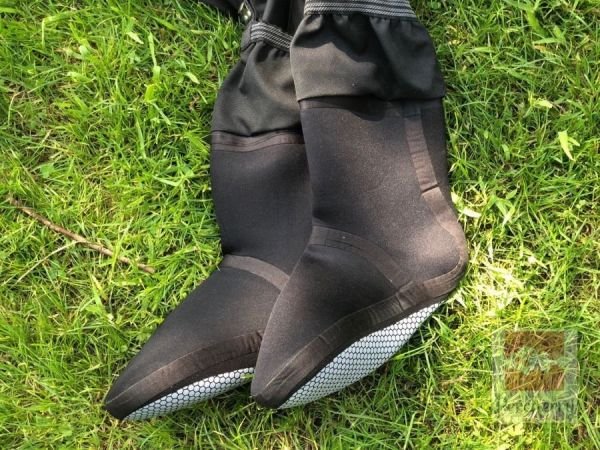 Percherry's Bootie recommendation:
Cressi Isla 5mm neoprene booties (XXL for a shoe size of EUR 45)
Aqua Lung Super Zip Ergo 6.5 mm (Size EUR 51 with a shoe size of EUR 45)
The right fin 
The right fin is important for fatigue-free movement on the belly boat. Admittedly, there are a lot of really good fins in this category. For us, the perfect fin should be robust, easy to put on and should not be able to find its own weight in the water – this makes the fatigue-free movement on the Belly much easier for you. Also, your fins should have a spring strap – whoever puts on and takes off their fins for the first time on the water knows what we are talking about.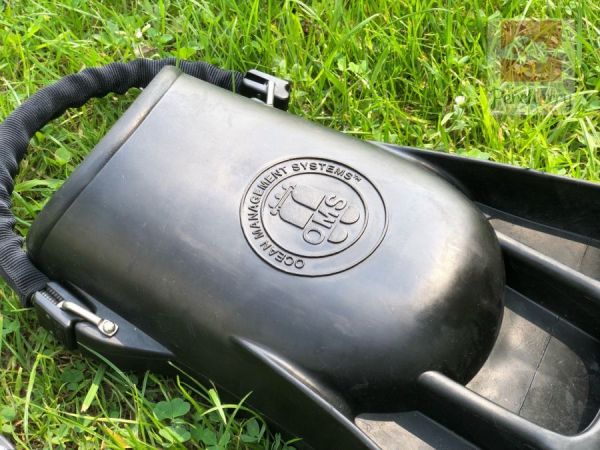 We have had good experiences with an OMS Slipstream device fin made of monoprene resin. The material is also used in space travel and is indestructible. It will therefore probably remain our last fin.
Percherry's Fin Recommendation:
OMS Slipstream (XXL with a shoe size of EUR 45)
Mares Volo Power (XL with a shoe size of EUR 45)
Last Important Note: Waders, boots and fins should fit well but must not be too tight under any circumstances. You should still have enough freedom of movement. Remember, your feet are still a little swollen in the water. Also, a too-tight fit will make your feet freeze very quickly.
Thomas from Percherry
Take care of each other | We love Percherry ????????
Who Is Percherry ? 
We at Percherry specialize in catching perch from the belly boat. Perch is our great passion. So we have been able to catch specimens well over the magic limit of 50cm. We have already caught fishes of 54cm, 55cm and 56cm and hold the current Dutch perch record with 56,5 cm and 3,05 kg
We are also working with Float Plus to further develop and promote the electric drive for belly boats and develop innovative products for the bellyboat sector. We also put together an annual competition team and have been able to achieve the following successes since 2018:  
Read more from Percherry  - Belly Boat Innovation With Percherry & RAILBLAZA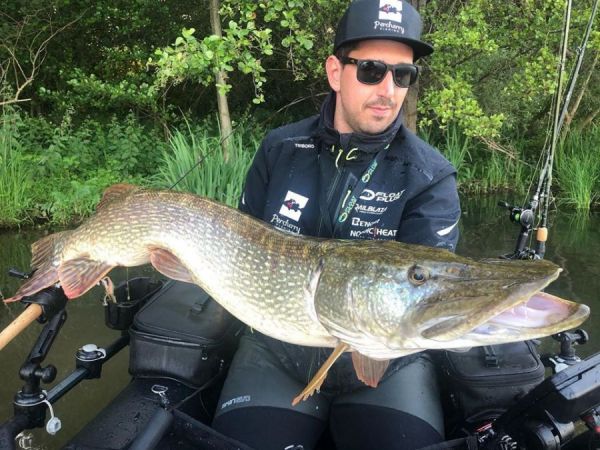 Deutsche Version
Faszination Belly Boat | Was du schon immer wissen wolltest? | Das richtige Zubehör (Teil1): Wathose, Füsslinge und Geräteflossen +++
Der ein oder andere spielt vielleicht gerade mit dem Gedanken sich ein Belly Boat anzuschaffen. Die Angelei, das Gefühl der grenzenlosen Freiheit und zugleich der direkte Kontakt zum Wasser ist ehrlich gesagt schon der Wahnsinn ???????????? – mittlerweile kann man sagen, sind wir so von dieser Angelei gefesselt, dass wir öfter mit dem Belly, als vom Ufer unterwegs sind.
So verwundert es nicht, dass wir auch die schönsten Angelaugenblicke der jüngeren Vergangenheit auf oder besser gesagt im Wasser erleben durften.
Wer sich intensiv mit dem Kauf eines Bellys auseinandersetzt wird jedoch schnell feststellen, dass es mittlerweile eine große, schier unendliche Auswahl an verschiedenen Modellen gibt. Gleiches gilt für das teilweise, optional erhältliche Zubehör wie etwa Rutenhalter oder gar elektrische Motoren – ja ihr lest richtig: Elektromotoren für das Belly Boat. Auch hier gilt, schön ist was gefällt. Ehrlichgesagt, waren wir anfangs ein wenig skeptisch, könnte der Elektromotor doch das oben suggerierte Freiheitsgefühl einschränken – Fehlanzeige! Wir für unseren Teil, können euch versprechen, es erweitert es sogar. Aber dazu in den nächsten Wochen mehr. ????
Wer sich für den Kauf eines Bellys entscheidet, wird schnell erkennen, dass es mit diesen Anschaffungskosten alleine nicht getan ist – Wathose, Flossen, Rettungsweste, Echolote, Batterien, Rutenhalter und vieles mehr, spielen ebenso eine wesentliche Rolle und lassen den Geldbeutel schnell schrumpfen – so jedenfalls bei uns. ????
Aus diesem Grund wollen wir in den nächsten Wochen ein wenig über unsere Erfahrungen am Wasser, unsere maßgeschneiderten Bellys und das eingesetzte Zubehör berichten – vom wasserdichten Batteriekoffer über die passende Beleuchtung, bis hin zur Motorisierung, wird es einige Aufbauanleitungen geben – also seid gespannt.
Unser oberstes Percherry Credo dabei:
Wir stellen nichts vor, hinter dem wir nicht zu 100% stehen und es schon selber, erfolgreich am Wasser getestet haben. Wir scheuen uns nicht davor, unsere ehrliche Meinung zu sagen und damit auch einmal gegen den Strom zu schwimmen. Wir sind an keine Hersteller gebunden und müssen diesen auch nicht nach dem Mund reden.
Starten wollen wir mit dieser Belly Boat Serie in der Rubrik "Was du schon immer wissen wolltest | Die richtige Kleidung (Teil1): Wathose, Füsslinge und Geräteflossen +++"
+++ Die richtige Wathose +++
Grundsätzlich haben sich zwei Varianten von Wathosen für das Belly bewährt. Auf der einen Seite, die atmungsaktive Wathose, zumeist aus einem wasserabweisenden, mehrlagigen atmungsaktiven Material und auf der anderen Seite die wohl bekanntere Version aus Neopren. Beide werden in der Regel entweder mit einem direkt an der Hose angegossenen oder verschweißten, nicht abnehmbaren Stiefel oder aber mit einem angeschweißten Neoprensocken angeboten. Für was man sich schlussendlich entscheidet, bleibt Geschmacks- oder Glaubensfrage. Wir für unseren Teil nutzen aus voller Überzeugung atmungsaktive Wathosen mit Neoprensocken und tragen darüber, zum Schutz der Wathose einen zusätzlichen Neoprenfüßling – und das sowohl im Sommer als auch im Winter.
Der Grund dafür ist recht simpel – eine atmungsaktive Wathose gibt uns einfach mehr Flexibilität – so können wir besser auf unterschiedlichste Witterungsbedingungen reagieren und benötigen nur eine Wathose. Im Sommer reicht für gewöhnlich eine Funktionsunterhose und im Winter nutzt man das Zwiebelprinzip. So tragen wir bei Temperaturen um den Gefrierpunkt, eine lange, atmungsaktive Funktionsunterhose und darüber eine lange Hose aus Fleece (damit verbringen wir mehr als acht Stunden auf dem Wasser ohne an Beinen und Füßen zu frieren ????). Als Zwiebelschicht haben sich Materialien bewährt, die die Feuchtigkeit von der Haut wegtransportieren und an die Umgebung abgegeben. Das heißt, wir brauchen Kleidungsstücke, die diesen einseitigen Feuchtigkeitstransport leisten und diese nicht speichern. An dieser Stelle sollte man also besser auf Baumwolle verzichten, da sie den Feuchtigkeitstransport eher verhindern als fördert (Baumwolle neigt dazu Feuchtigkeit zu speichern). Wer das schon einmal ausprobiert hat, kennt das unangenehme Gefühl nach einer Tour: Man vermutet im ersten Augenblick nämlich, dass die Wathose im Schritt undicht geworden ist. Ist sie aber nicht. ????Vielmehr hat die Baumwolle sämtliche Feuchtigkeit wie ein Schwamm aufgesogen.
Anstatt der Baumwolle sollte besser auf synthetische Funktionsfasern wie etwa Polyester oder aber auf Schur- bzw. Merinowolle (Socken) zurückgegriffen werden.
Für welche Wathose ihr euch Schlussendlich entscheidet bleibt auch hier Geschmackssache. Bedenkt beim Kauf aber folgendes: Wathosen wurden wie der Name schon sagt, für das Waten, dem langsamen Fortbewegen im Wasser entwickelt und nicht für das stundenlange sitzen in einem Belly Boat. Warum ist das so wichtig? Wathosen sind in der Regel sehr empfindlich gegenüber Reibung, vor allem, an den so empfindlichen, verschweißten Nähten. In vielen Fällen führt die ständige Reibung dazu, dass die Wathose über kurz oder lang undicht wird und entsprechend geflickt bzw. ersetzt werden muss. Und das passiert nach unseren Erfahrungen in nahezu allen Preiskategorien – egal ob ihr euch in einem Preissegment von 100 EUR oder 600 EUR bewegt. Wir sind daher dazu übergegangen eine gute, solide und preiswerte Wathose in einem niedrigen Preissegment zu nutzen. Wichtig sind jedoch trotzdem, eine gute und angenehme Passform und ein Watgürtel. Dieser verhindert im Ernstfall, dass die Wathose mit Wasser vollläuft.
Häufig stellt sich in diesem Atemzug die Frage, ob man durch eine vollgelaufene Wathose nach unten gezogen werden kann. In der Regel ist das nicht der Fall – im Gegenteil. Der Grund hierfür ist ganz einfach, die Dichte des Wassers ist immer gleich – egal, ob in oder außerhalb der Wathose. Solltest du mit deiner Wathose einmal ins Wasser fallen, so wirst du schnell merken, dass sie in Kombination mit einem Watgürtel, aufgrund der eingeschlossenen Luft, eher für Auftrieb sorgt. Im Falle einer Ohnmacht, führt das jedoch auch dazu, dass Oberkörper und Kopf ins Wasser gedrückt werden und so die Gefahr des Ertrinkens besteht. Eine ausreichend dimensionierte, ohnmachtssichere Rettungsweste ist daher immer Pflicht.
Unsere Empfehlung:
Exquisite G2 atmungsaktive Wathose mit 3,5 mm Neoprensocken und Watgürtel (XL bei einer Körpergröße von 1,80m)
+++ Neopren Füsslinge +++
Wer sich wie wir, für die Nutzung einer Wathose mit Neoprensocken entscheidet, sollte nicht auf den Kauf von zusätzlichen Neoprenfüßlingen verzichten. Erstens isoliert die Neoprenschicht zusätzlich und zweitens schont es eure Wathose enorm – und das für wirklich wenig Geld. Kleinste Steine reichen schon aus und die Wathose wird an den Neoprensocken undicht – und diese können nicht gewechselt werden. Daher niemals nur mit den Neoprensocken der Wathose durch das Gelände laufen.
Percherry Empfehlung:
1. Cressi Isla 5 mm Neopren Füsslinge (XXL bei einer Schuhgröße von 45)
2. Aqua Lung Super Zip Ergo 6,5 mm (Größe 51 bei einer Schuhgröße von 45)
+++ Die richtige Geräteflosse +++
Wichtig für ein ermüdungsfreies fortbewegen auf dem Belly Boat ist die richtige Geräteflosse. Zugegebenermaßen gibt es in dieser Kategorie eine Menge wirklich guter Flossen. Für uns sollte die perfekte Flosse robust, leicht anzuziehen und im Wasser nicht auftreiben, also ein gewisses Eigengewicht mitbringen – das erleichtert die ermüdungsfreie Fortbewegung auf dem Belly enorm. Außerdem sollten unsere Geräteflossen ein Spring Strap haben – wer das erste Mal auf dem Wasser seine Flossen an und auszieht weiß wovon wir sprechen. Wir haben gute Erfahrungen mit einer OMS Slipstream Geräteflosse aus Monopren Harz gemacht. Das Material wird auch in der Raumfahrt eingesetzt und ist unkaputbar. Es wird daher wohl auch unsere letzte Geräteflosse bleiben. Auch die Mares Volo Power können wir aus eigener Erfahrung jedem, besten gewissens empfehlen.
Percherry Empfehlung:
1. OMS Slipstream (XXL bei einer Schuhgröße von 45)
2. Mares Volo Power (XL bei einer Schuhgröße von 45)
Wichtig: Wathose, Füsslinge und Geräteflosse sollten gut passen aber dürfen unter keinen umständen zu eng sein. Ihr solltet noch genügend Bewegungsfreiheit haben. Bedenkt, dass eure Füße im Wasser noch ein wenig anschwellen. Außerdem sorgt eine zu enge Passform dazu, dass eure Füße sehr schnell anfangen zu frieren.