Trolling Motor Support XL with SidePort Tracloader SureMount
$55.00
In Stock
Part Number: TMSUPXLTL
At RAILBLAZA, we get it—you work hard and you play hard. That's why we have the perfect solution for securing your electric trolling motor dur...
1577 in stock

Trolling Motor Support XL with SidePort Tracloader SureMount
Product
Specifications
Don't let your hard work and play go to waste. With our Trolling Motor Support XL and SidePort Tracloader SureMount, you can know for sure that your trolling motor will remain safe during transit, hassle-free!
Features:
- Can be offset inboard or outboard to suit the alignment of your Trolling motor shaft.
- Height adjustable to suit different shaft heights.
- Flexible strap holds shaft captive to avoid vibration on road or on water.
- Can be removed to create a clear deck when Trolling motor is in use.
- Comes with Tracloader Mount to mount on Tracker, Crestliner, LOWE, PrinceCraft, and more track systems.
Parts Included:
1 x Trolling Motor Support Arm
1 x TracLoader SidePortTack Mounting Hardware
Weight
0.00lbs
Material Composition
UV Stabilized Fiberglass Reinforced Plastic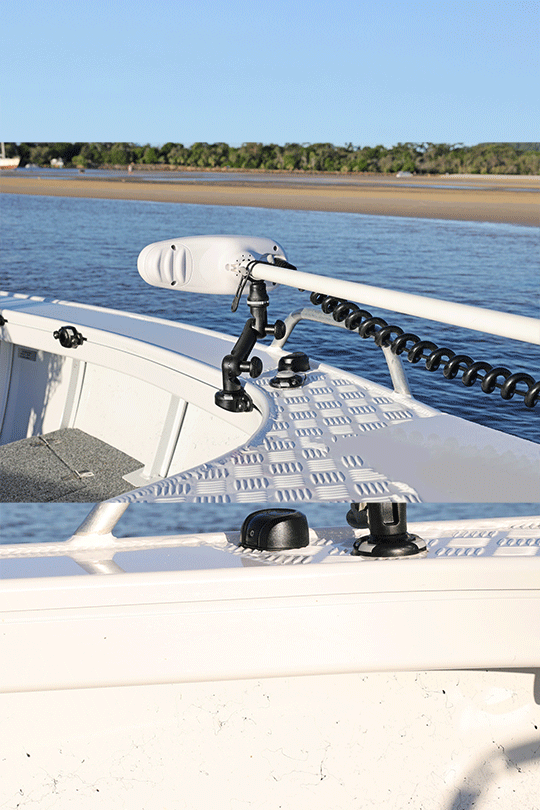 Trolling Motor Support XL with SidePort Tracloader SureMount Overview
SECURE YOUR MOTOR - Worried about your trolling motor while traveling? The RAILBLAZA Trolling Motor Support XL with SidePort Tracloader SureMount will take care of it for you. This innovative accessory secures your electric trolling motor in place, protecting it from vibration and damage.
ADJUSTABLE HEIGHT - This support is adjustable to fit the individual alignment of your shaft, making it a perfect fit for any make or model of trolling motor.
EASY INSTALLATION - Installing the RAILBLAZA Trolling Motor Support XL with SidePort Tracloader SureMount is quick and easy—simply attach it to your deck using the included screws.
COMPATIBLE WITH MULTIPLE BRANDS - Our support is designed to be compatible with Tracker, Crestliner, LOWE, PrinceCraft and more brands of trolling motors.
RAILBLAZA Q&A
Customer Questions & Answers
Q & A
Will this work on alumacraft aluma-trac
Currently we do not have anything for the Aluma-Trac. (as of 5/15/2023)
What do I need to purchase to stabilize my trolling motor from my bow rail if the shaft is 15 inches from the rail ?
For extra length, try pairing our Trolling Motor Support Arm with the Adjustable Extender for added length: https://www.railblaza.com/products/adjustable-extender-r-lock/
How will this fit a 2018 Crestliner fishawk
We have a Boat Fit Guide on the page you can click on and find your boat. No worries tho! I checked it for you and this will work for your boat perfectly!
Do your products fit a 2020 Lowe Stinger?
Hey David! Yes, The 90 Degree TracLoader products are perfect for your LOWE Stinger. If you ever need to see what will fit on your boat please make sure to check out the TracLoader Fit Guide always visible on the site.
Does this fit in a 2023 Ranger RB 190 gunnel track?
It looks like the TracLoader 45 will be the proper mount for that boat.