TracPort Dive and Gas Bottle Holder Kit
$110.00
In Stock
Part Number: 04-4062-11
Are you looking for a simple and reliable way to keep your Dive bottles, Gas bottles, Fuel and water cans safely stored? Look no further than the Trac...
37 in stock

TracPort Dive and Gas Bottle Holder Kit
Product
Specifications
Ready to take your boat organization to the next level? Look no further than RailBlaza's TracPort Dive and Gas Bottle Holder Kit. It's strong, versatile and designed to keep your propane tanks, dive tanks, gas cans and water cans safe and secure during all your boating adventures!
Features:
- Securely holds all types of bottles and cans
- Rail or StarPort mounting options
- Adjustable bracket spacing
- Marine-grade materials
Parts Included:
•

2 x StarPorts and fastener kits
•

2 x Pairs of bracket moldings
•

2 x Strap kits (Kit incl: 2 x 120cm, 2 x 60cm)
•

19.658Inch(500mm) TracPort extrusion with end caps and 4 x track nuts.
Weight
2.97lbs
Material Composition
- Brackets and adaptors – UV proof Fibreglass reinforced nylon - TracPort Extrusion – Anodised aluminium - TracPort plastic fittings – uv PROOF Fibreglass reinforced nylon plastic - StarPort – AES (uv PROOF Acrylonitrile Ethylene Styrene) - Locking Slide – Polycarbonate - Straps – polypropylene webbing - Fasteners – stainless steel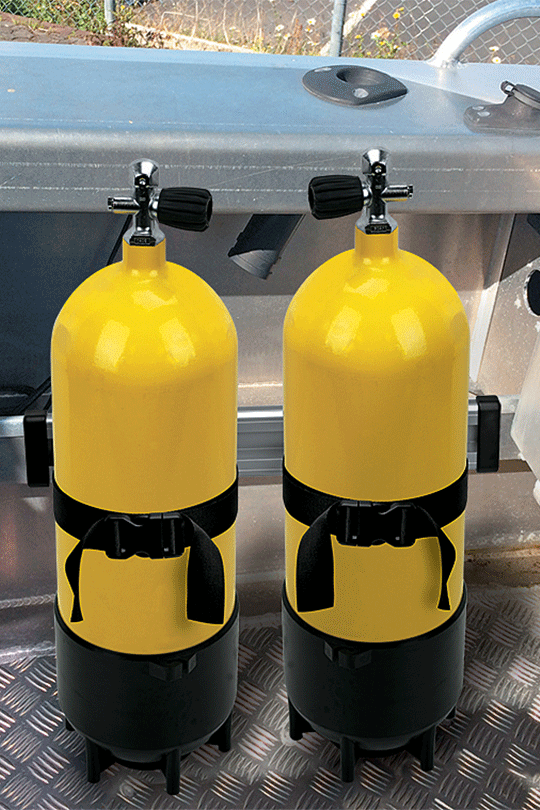 TracPort Dive and Gas Bottle Holder Kit Overview
KEEP YOUR VESSEL ORGANIZED - The RAILBLAZA TracPort Dive and Gas Bottle Holder is a versatile, strong solution for keeping all sorts of bottles and cans safe and secure while out on the water. Whether you're a boater, sailing enthusiast, or adventurer, this holder has got you covered.
HARDWARE FOR EASY INSTALLATION - The Dive & Gas Bottle Holder comes with fastenings that make it easy to install on your vessel. You can also use the StarPort mounting system to make it removable.
ADJUSTABLE BRACKET SPACING - During installation, you can adjust the bracket spacing to fit whatever size bottle or container you are wanting to store. This makes the RAILBLAZA Dive & Gas Bottle Holder perfect for a variety of applications.
CRAFTED WITH CARE IN NEW ZEALAND - Manufactured using materials that are perfect for withstanding marine environments, this holder is made with care in New Zealand.
RAILBLAZA Q&A
Customer Questions & Answers
Q & A
There are no questions yet
Review(s)
| | | |
| --- | --- | --- |
| 5 star | | 0% |
| 4 star | | 0% |
| 3 star | | 0% |
| 2 star | | 0% |
| 1 star | | 0% |
Sorry, no reviews match your current selections