RodStow Double
$39.00
Introducing the RodStow Double – your must-have fishing accessory for an easy, unforgettable experience! Perfectly store and organize rods, perfect ...

RodStow Double
Product
Specifications
Upgrade your fishing experience with the RodStow Double - perfect for boats of all sizes! Get easy access to your rods, with stainless steel hardware and a removable gimbal pin so you can get right out on the water. Plus, store all your tackle and lures in one place with our modular system. Make sure you don't leave home without it.
Features:
- Storage caddy for lures, wallets, sunglasses, line spools and other tackle
- Tube size 1.57 inch inside diameter
- Can also hold gaffs, boat hooks or nets
- Removable gimbal pin to stop rod rotation
- Made from UV-stabilized, fiberglass reinforced engineered polymers
- Fits all rod lengths
- Stainless steel screws included
Parts Included:
2 x RodStow Rod Holder Tube
1 x RodStow Caddy
4 x 12-gauge 32 mm self-tapping screws
4 x M6 x 35mm machine screws, washers & nuts
1 x Drilling template and instructions
Weight
1.08lbs
Material Composition
UV Stabilized Fiberglass Reinforced Plastic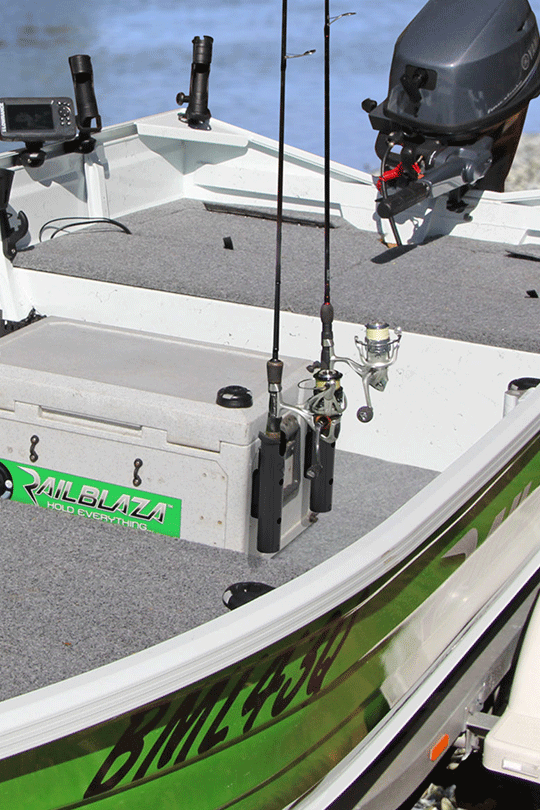 RodStow Double Overview
EASY STORAGE - The RodStow Double keeps your rod and reels perfectly organized and easy to access, whether you're on a small boat or a big one. It's also perfect for storing other fishing gear, like lures and tackle.
FAST INSTALLATION - Stainless steel hardware makes it a breeze to install the RodStow Double in just minutes. And it's modular so you can connect multiple units together if needed.
EASILY CONNECTABLE - The RodStow Double is part of our modular system, which means you can easily attach it to any of our other RodStow products. So no matter what kind of fishing you're into, we've got you covered.
KEEPS YOUR RODS SAFE - With the removable gimbal pin, your rods won't rotate or get damaged while stored. Plus the sleek design looks great on any boat. Make sure you don't leave home without the RodStow Double!
RAILBLAZA Q&A
Customer Questions & Answers
Q & A
There are no questions yet